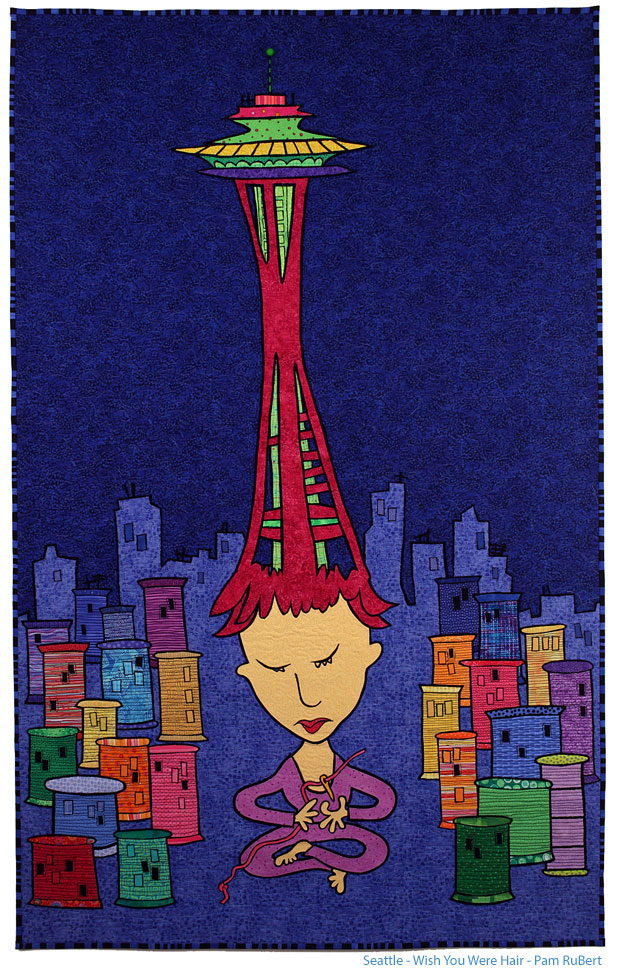 A selection of quilts from 
Quilt National '13
 is showing at the
Ohio Arts Council's Riffe Gallery
in Columbus, Ohio, from January 30 through April 13, 2014 — including my quilt,
Seattle: Wish You Were Here
. For her January 31 gallery talk at Riffe Gallery, the director of Quilt National Kathleen Dawson, asked participating artists about their process. Here is what I sent her about my process:
I usually start with some crazy idea that pops into my head – like a joke or a pun, or some life situation that bothers me or I find strange and interesting. Then I start doodling and sketching. I try to sketch in places and times when I'm relaxed like on a trip, or when I wake up in the middle of the night because my imagination is more free.

I scan the sketches into my computer, iPad, or iPhone so that I can trace the image, play with different colors and perspectives, and combine images. Often I work back and forth between the hand drawing and computer drawing stage, until I arrive at a design that I can enlarge to make a paper pattern the size the quilt will be. During this process, I try to retain the spontaneity of the original hand drawings, because I feel that's what gives the quilts their unique quirky personality and also helps me to achieve the handmade quality that draws me to quilt-making in the first place.

Once I have the big paper pattern ready, I trace the elements onto fabrics, cutting and pinning the shapes like a big collage on a soft design wall in my studio. I don't permanently attach anything until I have the whole composition pinned together, because I am always adjusting fabric colors and patterns to achieve good composition.

Once I have the composition complete, I temporarily fuse the whole thing together so I can sew it. I sew free-motion quilting on a Bernina and Viking machine. My sewing patterns are all designed for the specific quilt. If you look at faces and body parts, you'll see kind of strange stiching that reminds me of tattoos or tribal body art patterns. The backgrounds will sometimes have thematic symbolic shapes stitched in them, such as wind, water, stars, or made-up hieroglyphics.

Because I change colors of threads often to match the fabric on the front, on the back of my quilts you will see a ghost image of the front. So I like to use coordinating batiks for the back that allow this ghost images to show up.