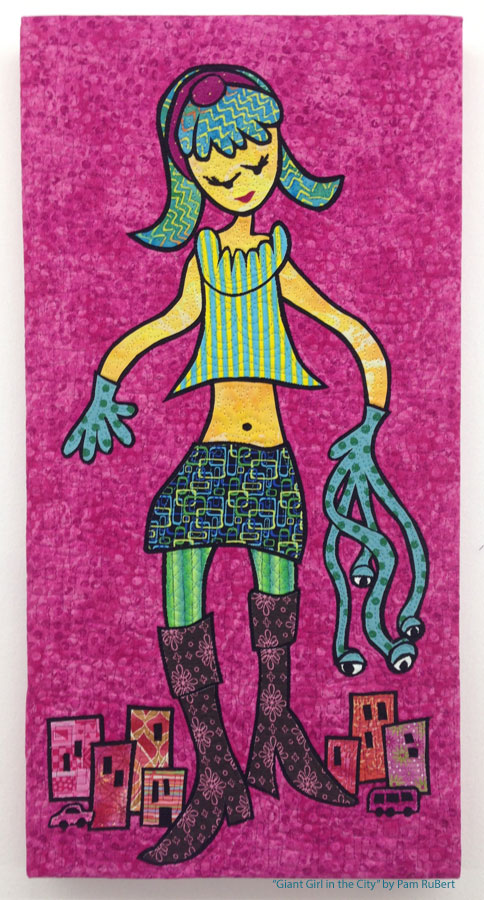 Suddenly I thought of what I could enter in this show. I made this small 12″ x 20″ quilt last summer for a Squidfoo show. It's stretched on a gallery wrapped canvas and called "Giant Girl in the City."
Our SRAC Visual Arts committee thought up the theme for the show because the Creamery will be undergoing sort of a metamorphosis later this year when the front entrance is remodeled for better visibility and parking. It interesting because each of us had a different idea of what metamorphosis is – some said change, some said nature, some growth, Jonathan said David Bowie, I thought Kafka. That's when we knew it would be a good theme, because there are so many creative possible interpretations.
It's funny because while I was making it, I was trying to decide if she should have plain glove hands or eyeball-tipped gloves, so I made one of each for her and posted a photo on Instagram. Almost everyone said they liked the combination, which I never would have thought of one my own. So metamorphosis – done!
My friend Stephanie who is organizing the show loves the eyeballs. She says they are great because we all see the world now using our fingers on computer keyboards, smart phones and iPads. I didn't think of that either, I was just thinking she's so tall, she needs eyeball gloves to see into people's windows, so I think that Stephanie's insight (ha!) is amazing.