Math to Go — Anywhere, March 7-28, 2014
at Arts & Letters, 214 S. Campbell, Springfield, MO, (417) 830-8186
Mon – Fri: 11:00 am – 9:00 pm, Sat: 11:00 am – 5:00 pm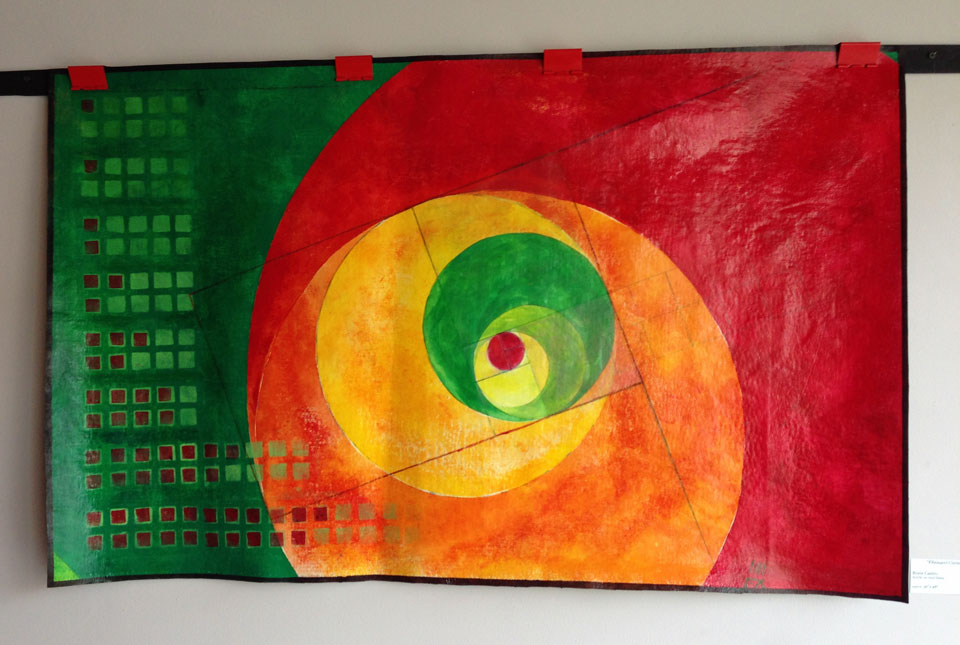 Math to Go — Anywhere is a clever idea by Roxie Castro to create paintings on vinyl fabric inspired by her sister, the "Mad Mather." This body of work on exhibt at Arts & Letters, Springfield's newest downtown gallery and eclectic boutique, has been developed over a number of years.
Upcycling cast-off wallcoverings and outdoor fabric, Roxie prepares the surface with gesso, then layers imagery of mathematical formulas, tools, rulers and theories using acrylic paint and colored pencils. The  paintings can be rolled up, displayed by hanging, used as table coverings, floor cloths, or as a portable work surface outdoors.
Well-known in Springfield as a print-maker, Roxie also has on display a few mathematically inspired mono-prints, and she has taken the time to print posters that can be cut and folded to make geometrical shapes such as the octahedron that is part of a blue and yellow installation in the gallery.
Statement from the artist:
Math to Go—Anywhere is a study inspired by my sister, the Mad Mather, who skillfully, cheerfully and patiently describes mathematic concepts. This body of work has been developed over many years. The Mad Mather's fun attitude toward her passion is contagious! For me to understand, I must visualize the concept and am thus driven to paint.
My paintings take form at a tall, wide table where I stand and paint on large vinyl mats. I choose vinyl to incorporate upcycled cast-off wallcoverings and outdoor fabric. The vinyl is prepared with layers of gesso, as one would prepare a canvas. The structure of the painting begins with traditional mathematic tools, rulers and protractors, paired with colored pencils. Happy, bright colored pencil lines show through the final varnish and add sparkle to large planes of color. Sometimes, painting in the lines feels necessary, but often the color leads my brush or dauber away from sharp angles in favor of fuzzy edges. Handmade stencils and tape add to the contours and edges.
These mats can be rolled up and placed anywhere—table, floor, wall, desk, grassy knoll. They become backdrops for viewers to explore numbers and concepts in a fun way. A friend of mine used to say, "if you have a difficult text to read, put the book under your pillow as you sleep." The implied result: learning by osmosis. Maybe it works for math concepts by imbedding them in artistic mats to be absorbed while sitting on or walking on or gazing into them. The general idea is that the exploration is internal and meditative.
Thank you for reading and I hope you find some enjoyment here!
Roxie Castro