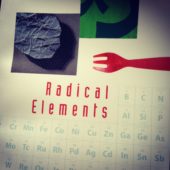 Last year I made a quilt using alternative materials for an exhibition called Radical Elements. Each artist in the show selected an element from the periodic table and was asked to create a quilt to the same size dimensions and without relying on traditional fabric and thread.
We were also asked to make a journal incorporating work samples. Since I used my real work samples, the book is sort of messy and irregular. It is spiral bound with a nice orange fiberoptic cable.
Curious Curium – A Radical Elements Journal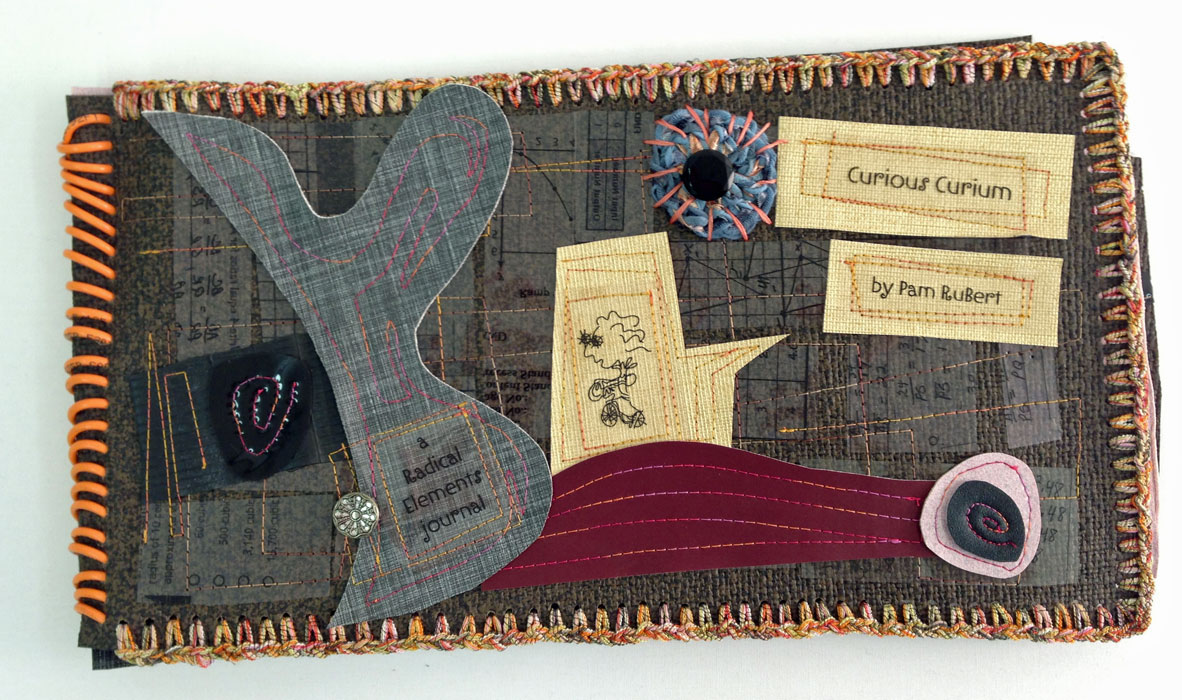 Curium is named for Marie Curie who pioneered research on radioactivity, was the first woman to win a Nobel prize, and the only person to win in multiple sciences.  I was fascinated that she like to ride bicycles. She and her husband Pierre went on a honeymoon bicycle trip after their wedding.
I had just bought a new bike and asked the bike shop to give me old used bicycle inner tubes to use in the quilt. Looking at photographs of Marie, I wondered how a forward-thinking person can look so old-fashioned to me?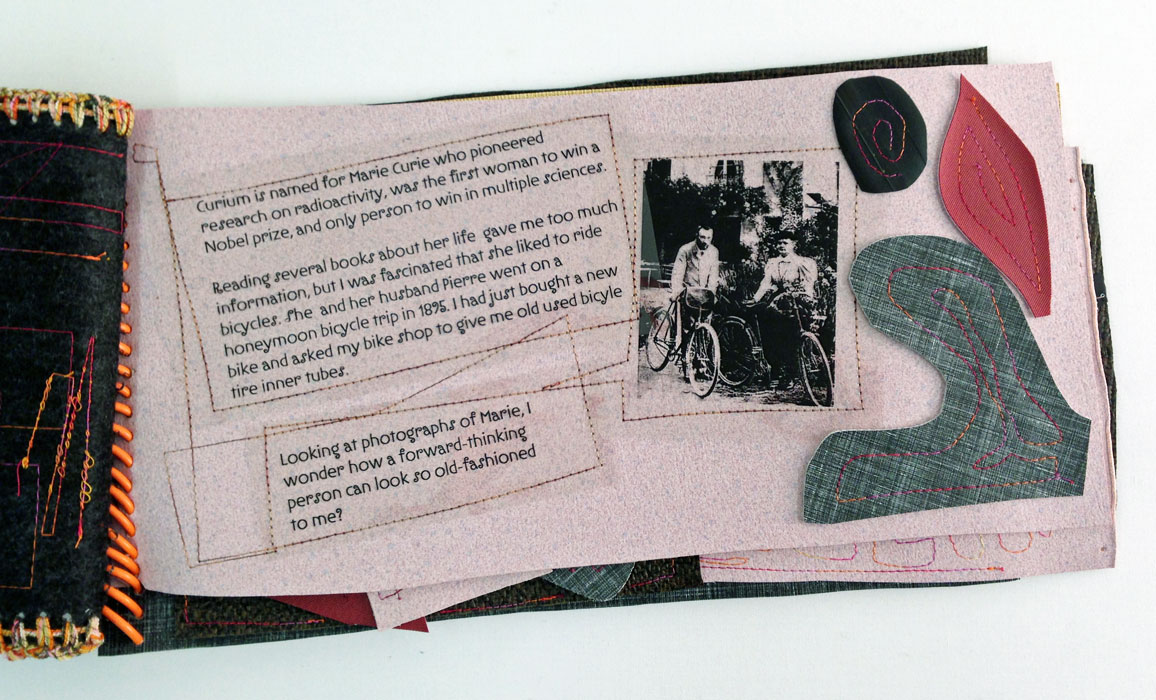 I collected vinyl remnants that had a retro print look because I am drawn to those patterns and designs in my stitching and drawing style. As I began experimenting with cutting shapes and sewing, I realized the vinyl would be hard to work with, so I simplified my design and concept.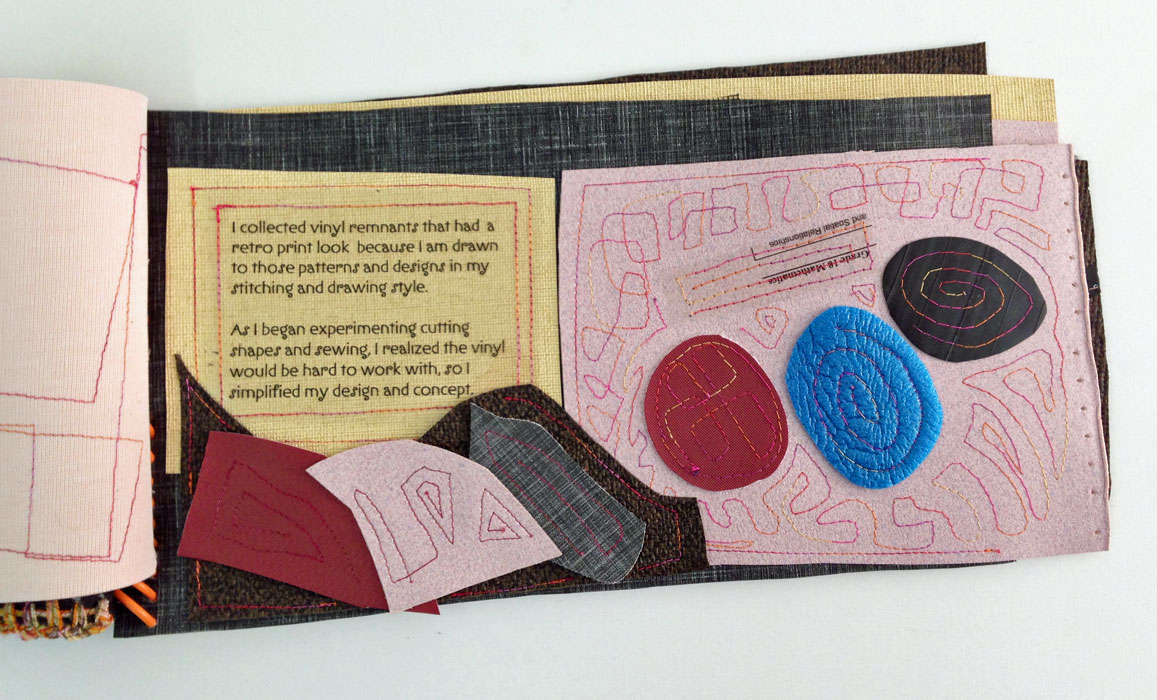 I started sketching, and from the beginning, I knew I would give her stars for eyes. Since at the time, I was also doing a lot of crocheting and yarnbombing, I decided to make the stars from yarn.
Blending images and concepts from 1895, 1950, and 2013 seemed impossible until I finally realized, regardless of our time or age, whether a scientist or artist, it is the commonality of curiosity that drives us forward.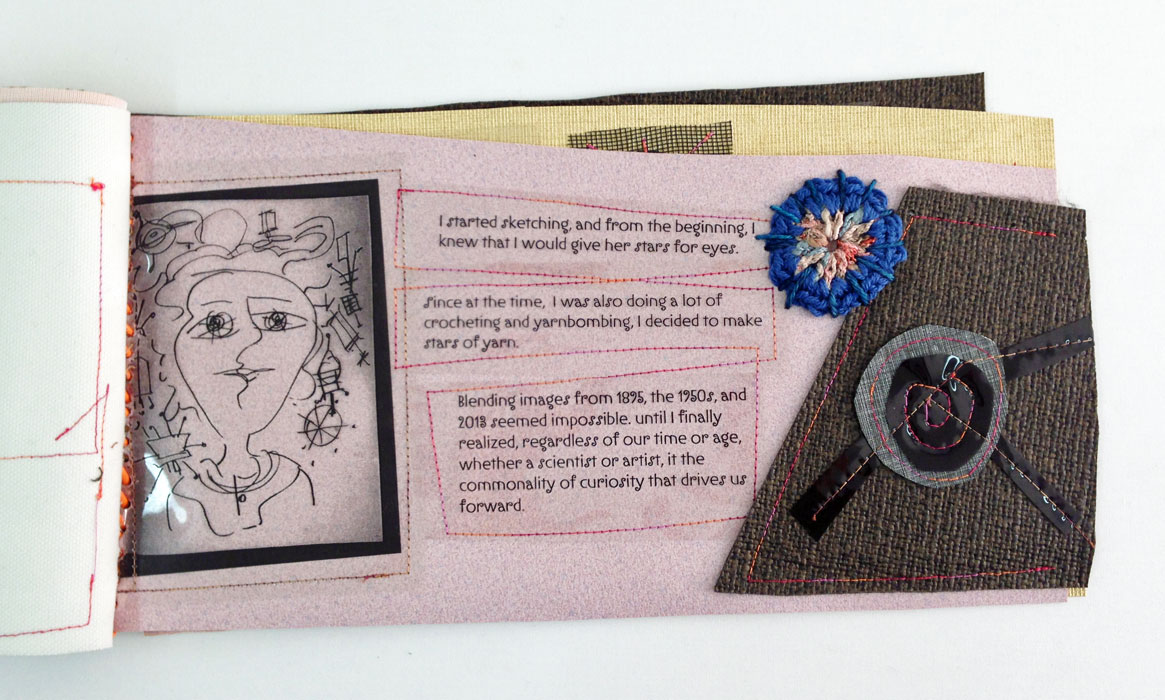 Curium is a radioactive element used in space exploration and space probes. Last year we had visited the Smithsonian National Air and Space Museum, and I had seen how varied and beautiful were the designs of space probes and satellites. It seemed a perfect fit for those starry eyes.
I collected odd metal parts to make my own space probes — door hardware, old sewing machine parts, brads, rivets, wire. My friends teach art in school, so I raided their stash of recycled junk and computer parts. In one box I found a folder of old classroom math acetates, so I cut and sewed them into the quilt.
Today space exploration seems futuristic, and yet at the same time, there is old space junk floating out there from years ago.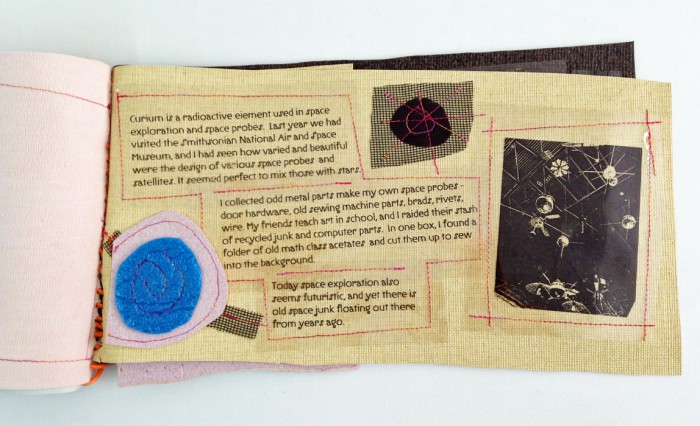 Sewing all these objects onto the quilt was a challenge and an addiction. Once I started, I did not want to stop creating fantasy space probes.
By some odd coincidence, although the bicycle image was lost long ago in the making of this quilt, I found the best way to hand sew onto the vinyl was wearing leather bike gloves. I'm not very good at using a thimble, but wearing the gloves, I could push and pull the needle through very thick material.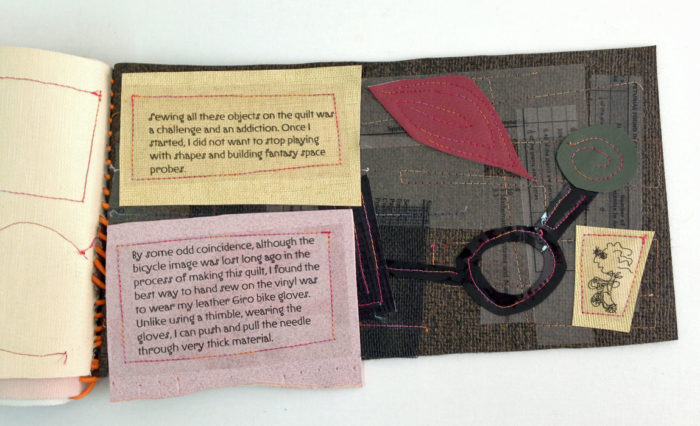 The end.
Here's the quilt. At first I was going to finish it like my drawing. Then I realized that if I stopped right where it's at now — instead of one face, there are three faces. This was purely an accident. Can you see them?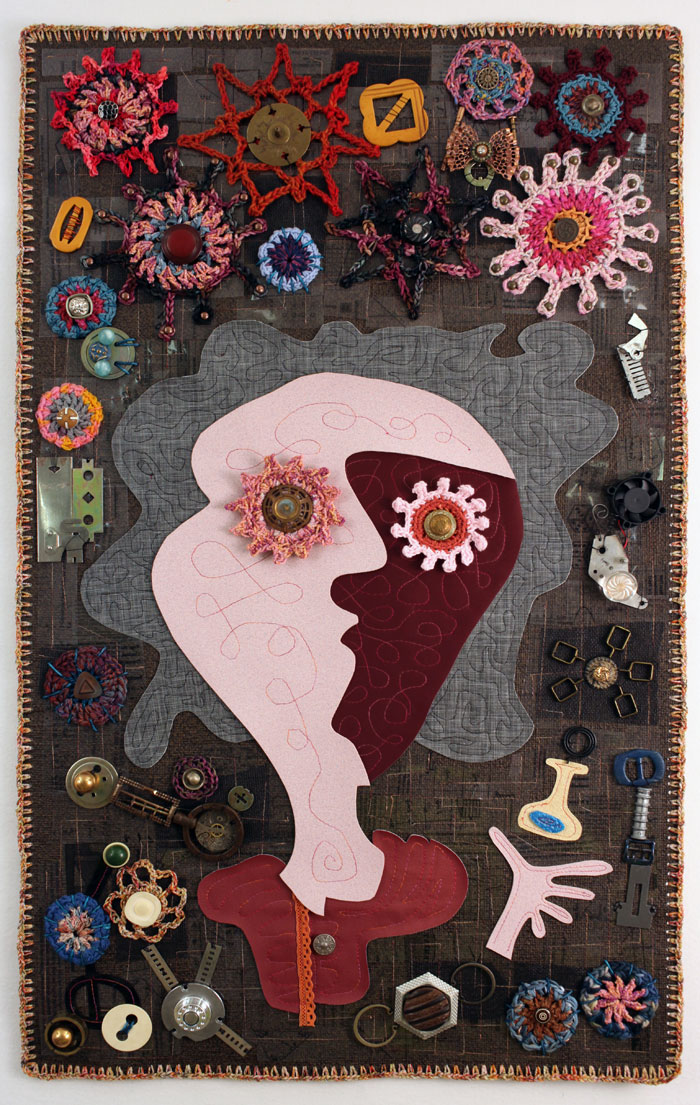 The exhibition is now booked for the National Academy of Sciences on Constitution Avenue in Washington D.C. for April-September, 2015.
The concept and initial curation is by Jill Rumoshosky Werner, managing curator is Gigi Kandler with loads of help from SAQA traveling exhibitions coordinator Bill Reker, and the catalog designed by Deidre Adams. Other booking include the initial opening that was at Montgomery College earlier this year and in 2016, at the Funk Center for Textile Arts.

Detail photos: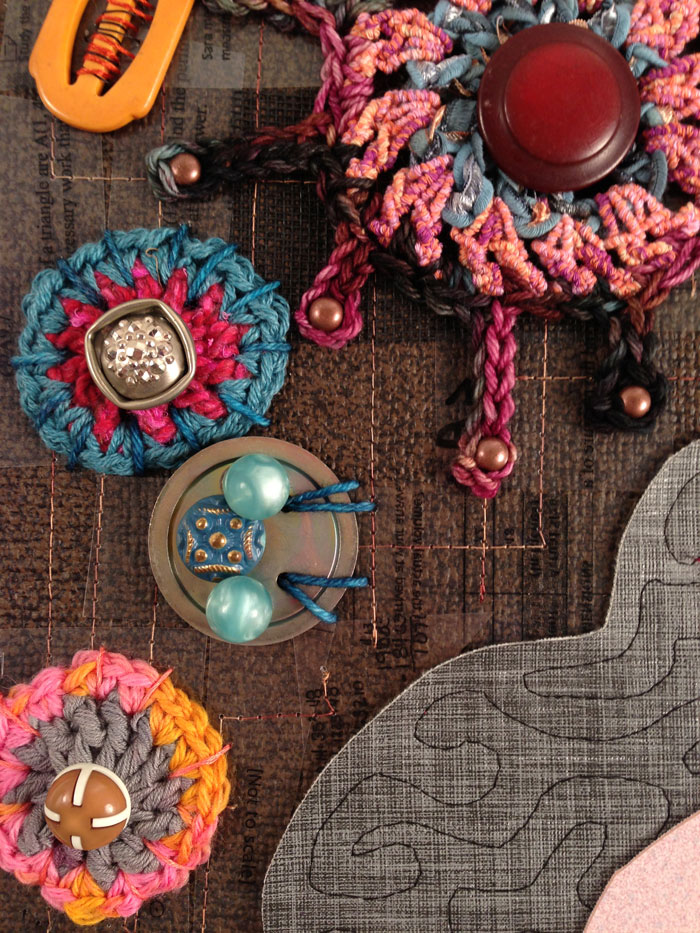 p.s. The blue spot inside the test tube is part of a yoga ball!