As for the roses….
Unfortuately the deer and maybe an armadillo ate my specialty roses last year. One of the four made a good effort at returning this spring. It grew out a new long stem with a bud on the end, so I was excitedly waiting for it to bloom. But then a dog or some animal broke that stem. Now it seems like it's given up this time for sure.
So I started buying larger rose plants because I thought if they were more established when I planted them, then the animals might not be able to do so much damage!
Over the winter I bought some salvage windows because I saw some fun-looking greenhouses on pinterest built out of old windows. But I'm sure that's a long term project that I'm not ready for yet. In the meantime I tried to build makeshift cold frames over my herb garden. There's Misha supervising the work in progress. I was worried she might walk on the glass windows, break them and hurt herself, but she left them alone.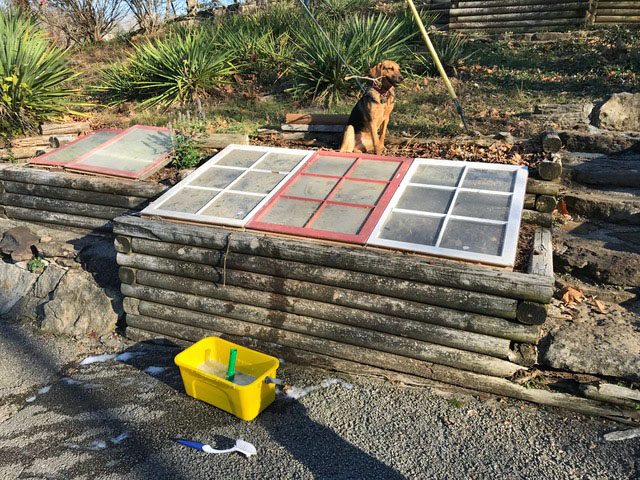 Over the winter, Russ put some color-changing LED lights inside and they were beautiful in the snow and frost. The cold frames weren't perfect but I guess they did some good because my herbs survived the winter and even a lettuce plant came back in the spring. Some kind of broccoli plant survived too, and then this spring sent out this amazing tall shoots. I don't know what it is doing but its very pretty lol.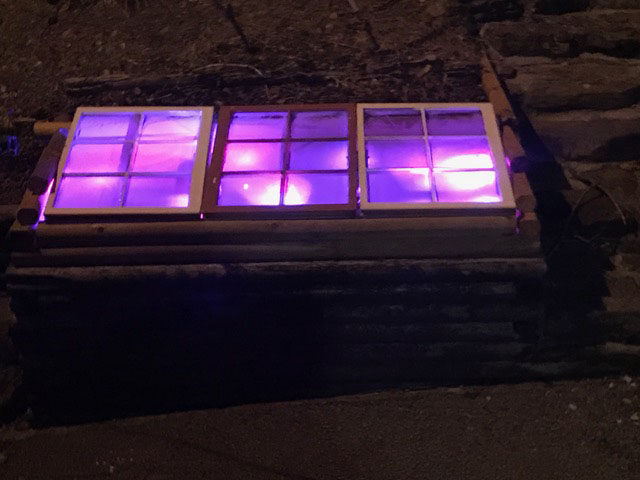 So I have a head start on the herbs, and now I'm working on weeding the upper beds, and adding some new ones in places that just weed patches now but get great sun.