The LAWN Art with Neighbors project came at an opportune time. I had been thinking about the old arbor in our side yard ever since the COVID-19 Stay At Home orders came down — how nice it would be turn it into an open air art gallery. So this is the story of how the exhibition of Springfield artists in Windows, Wind Chimes, & Whimsy was created.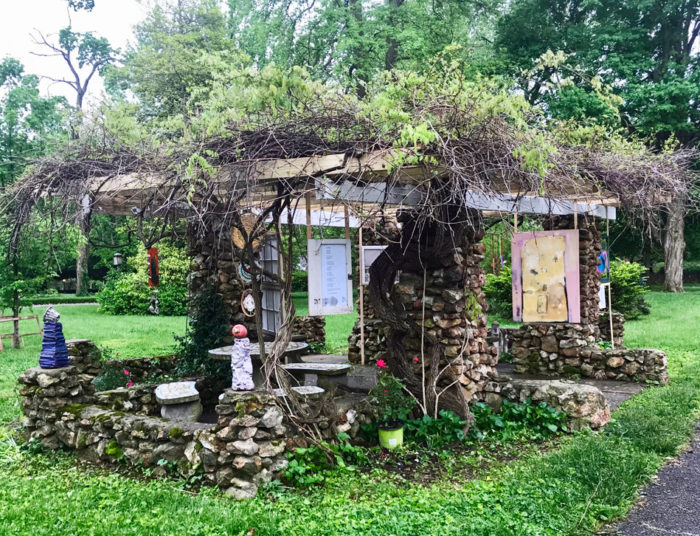 LAWN Art with Neighbors is a community public art project May 1-10, 2020. Anyone could apply to participate if they followed stay-at-home order, social distancing rules, and used materials that they already had to create art on their lawn.
The reason I thought that our arbor would be perfect, it's already perceived by our neighborhood as a community site. I often see walkers in the Rountree/Meadowmere Place area stopping to go inside. Or families with small children exploring the little hideaway.
The History of the Arbor
The arbor doorway faces the street and there is no barrier between the street and the entrance. The reason it's sited so unusually, is it was built in 1908 by William Howard Johnson. He lived in the house across the street, before there was a street. So actually it faces his house.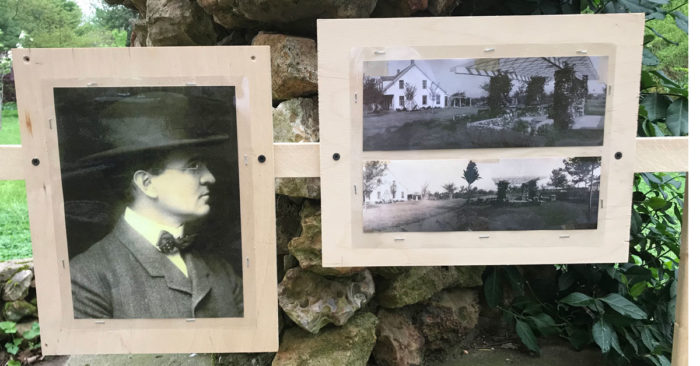 Then Weller street was paved, and the arbor ended up on the other side of the street, in our yard. Johnson also built many other houses in the neighborhood and planted all the trees that are now over a hundred years old. He made enough money doing that, and then he went down south and built the small city of Hollister. You can see the same signature rock work there in the Old English Inn in downtown Hollister.

So he probably didn't mind losing the arbor. I'm glad we got it. It's sort of a magical little place. Feels like a secret room with windows open to nature. When you are inside it, you feel safe, protected, and peaceful.
Over the years, the vines had become shaggy, the paint peeled, concrete cracked, and rafters rotted. I'd been wanting to fix it for years, but it seemed like an overwhelming project.
Then L.A.W.N. Art with Neighbors came up fast, and there is nothing like a deadline to get motivated!
Ralph Lanning Outsider Art in the Arbor
I got some help replacing the rafters, so the wood was the only thing we bought. Getting them up there was a little tricky, but with Russ's jacks and some ingenuity, lifted the vines, slid the new boards in sideways, and flipped the boards.
Next we pruned the vines and pulled weeds, uncovering Ralph Lanning sculptures that we had placed there years ago – a little concrete church and carved stone bear.
Here's a blog post I wrote in 2011 about the auction of Ralph Lanning's sculptures, most of which were bought by Missouri State University and how we got some of them. Also about his naked man sculpture controversy.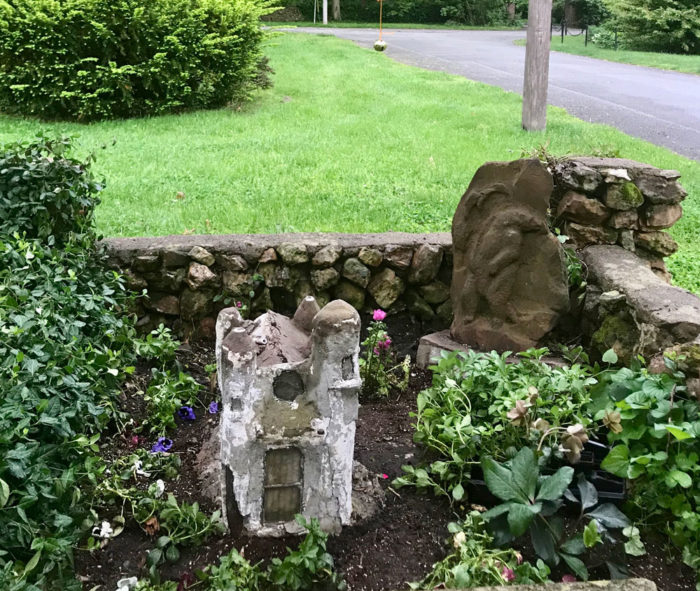 Then we invited artist friends from Paint Club and ideaXfactory to bring art to exhibit. I encouraged them to only bring or make art that was weather-resistant. Paintings on board were fine, but I told them to remember that once installed, both sides might show.
The Artists featured in Windows, Wind Chimes, & Whimsy
Dana Neuenschwander made a wonderful two-sided painting that spins in the wind. One side is a landscape, the other a snail. She calls it Riparian, and says it was inspired by a short stretch of water near Delaware Town:
"When I was a young girl, I lived near a river and was fascinated by the thousands of fossilized shells in the limestone rock that covered my front yard. The intricate patterns that hundreds of shells made in one slab of rock were beautiful….The snail is the perfect example of how a creature can always be moving but be right at home. Like the mollusks, we may be receding into our homes to protect ourselves during this pandemic, but we adapt to find ways to navigate many obstacles."
Jo Van Arkel brought a beautiful painting with floating dreamy images of a chair, table, and windows which she titled Stay At Home.
Christie Snelson has been experimenting with painting on glass inside old window frames — perfect! We named the exhibition "Windows, Wind Chimes, & Whimsy", because of course, Inspiration Arbor is the place, not the exhibit. We may have other exhibits with other names in the future….
Christie's window inspired me. Windows I thought are so important right now, how we see out of our stay at home shelters.
I had photos our local historian Richard Crabtree had sent of the arbor with Johnson and his children and a drawing of the arbor before it was built.
We printed those large and framed them in old windows that I had been using for several years as make-shift cold frames to protect my plants in winter. Windows through time.
Meganne Rosen has been painting on acetate for several years as she completed her MFA and current gallery shows, so that was a perfect fit.
Russ RuBert's sculpture Twist is installed right next to the arbor, and gleams at night with two-colored led night lights.
Keith Ekstam brought several wonderful clay landscape sculpture that look like they were made for the pedestals in the arbor.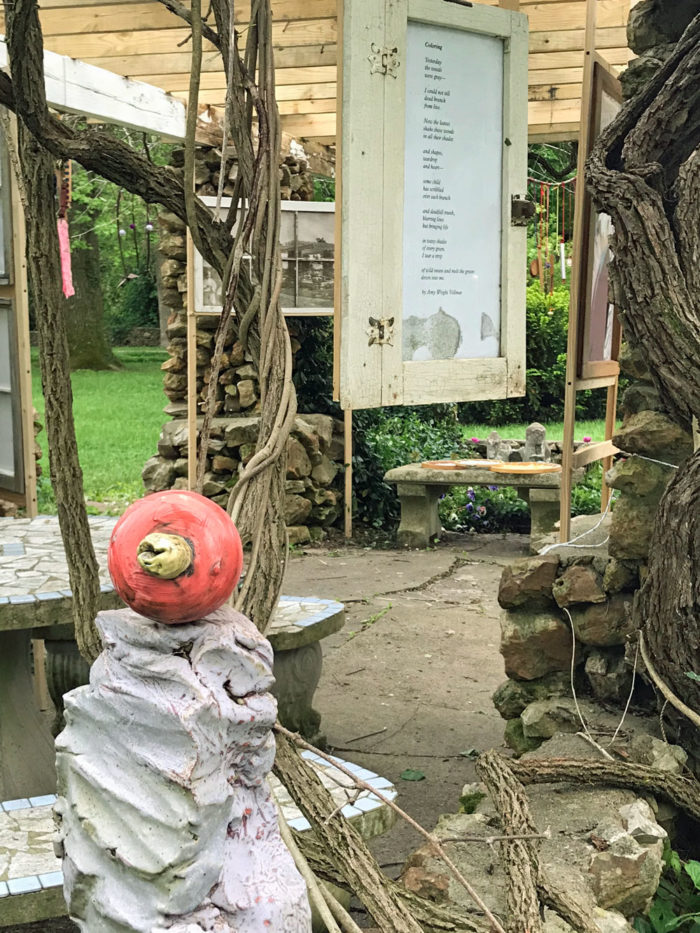 Cherri Jones helped me make the embroidery hoop mobile using vintage doilies I had been collecting for years. And the wind chimes came of an ideaXfactory workshop called Whimsical Wind Chimes that we created for the Southwest Kids in Action, an organization that organizes social activities for kids 8-18 who are blind or visually impaired.
Paula Rosen made a needle-felted garland that shows the phases of the moon, so appropriate for a structure that is a great spot for viewing the moon at night.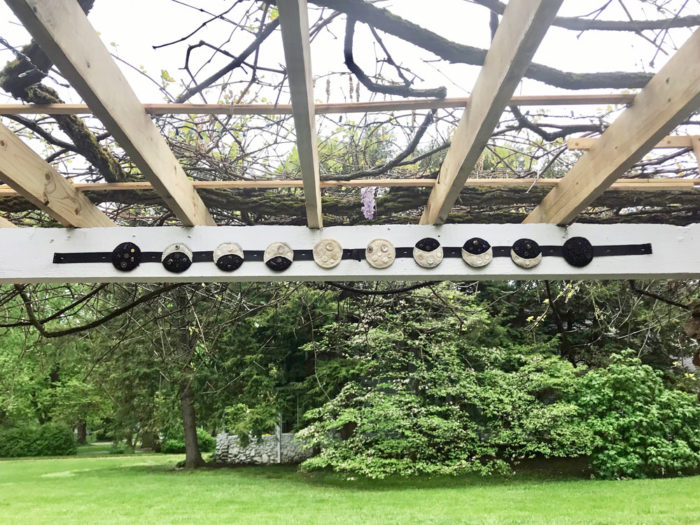 That led to the night-lighting. A bit tricky to balance the lighting that makes you able to see the art and read Amy Wright Vollmar poems (from her new book Follow: Poems published by Cornerpost Press 2020), but not be too disruptive of the night-time nature environment.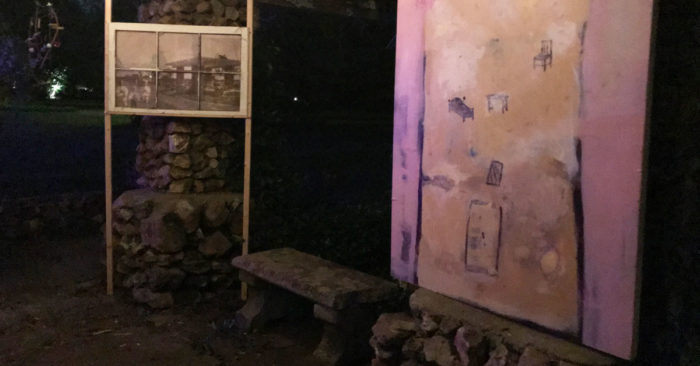 LAWN Art with Neighbors ends today, but we will keep our Windows, Wind Chimes, & Whimsy exhibition up through May. It's already weathered some pretty windy rainstorms, and the neighbors approve. I've even had one neighbor tell me it's almost like date night to go there after dark!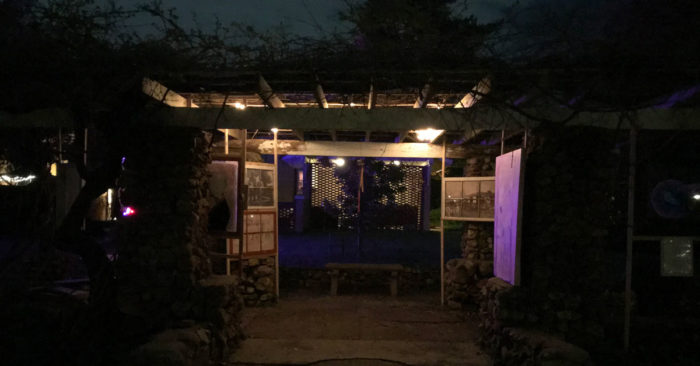 LAWN Art with Neighbors ends today, but we will keep our Windows, Wind Chimes, & Whimsy exhibition up through May. It's already weathered some pretty windy rainstorms, and the neighbors approve. I've even had one neighbor tell me it's almost like date night to go there after dark!
How to Find Inspiration Arbor
Inspiration Arbor located at the corner of Weller and Meadowmere, Springfield, MO, at 1507 E. Meadowmere. Please practice good social distancing when viewing this exhibition.