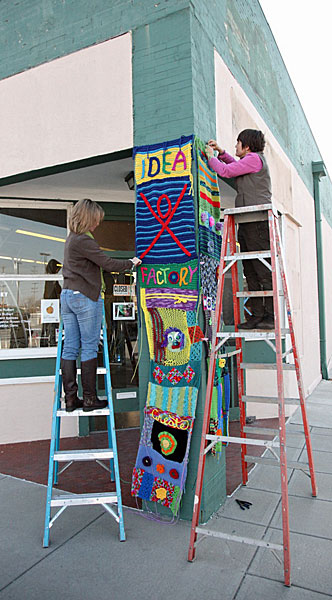 If you've been to my Facebook, Twitter, or Instagram accounts recently, you've probably see lots of yarn bombing photos.
We started a yarn bomb group at the ideaXfactory last fall and since, we meet every week, have been getting lots of projects done.
When we found out the St. Patrick's Day parade is scheduling to go right by the ideaXfactory, we decided to decorate.
You can see from the installation photo, that the building is sadly in need of some new paint, and we don't have a sign yet. So I decided to knit one.
For the other sides of the column, we recycled another project we created for the Art Museum yarn bomb last January (here's the stop-motion video), but it was a little too small. Yesterday afternoon was a great time to sit outside in the 80-degree weather, and crochet up a few odd pieces to fill in.