One of the reasons I was anxious about doing this show was the challenge of the spaces. Gallery Marlin is a new corporate gallery in the reception area of Marlin Company, an agency that specializes on the food service industry and had invited me to do the first in a series fine art solo shows.
Marlin Company is a corporate sponsor of the Springfield Regional Arts Council who has generously offered to host this series of solo shows with all gallery commissions from sales going directly to the non-profit SRAC. Marlin did not ask me to focus on food, but it wasn't a problem for me to find a lot of food and kitchen-themed quilts and drawings in my work. I guess home is where the heart is!
I like the urban loft-like feel of Marlin's offices inside an old ice house that I wrote about in this blog post, located above Brick City — which is the Art & Design HQ for Missouri State University.  At first I didn't anticipate the challenge that skinny spaces, brick walls, low floating walls, and brown and green interiors would present, but all these parameters eventually pushed me to work in some new directions.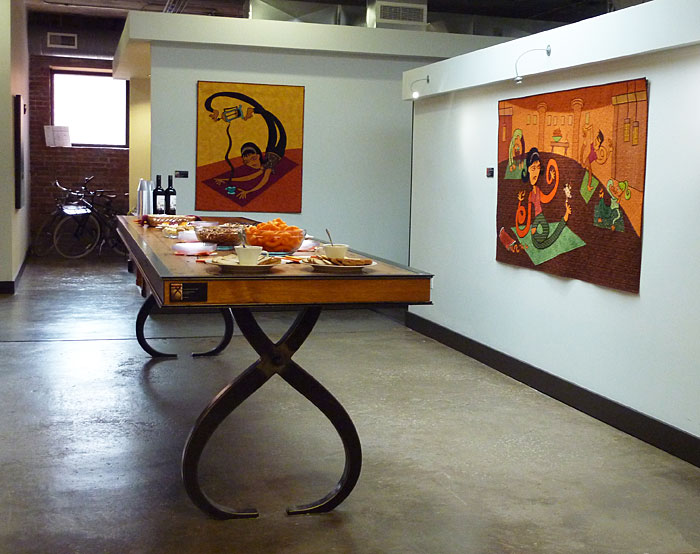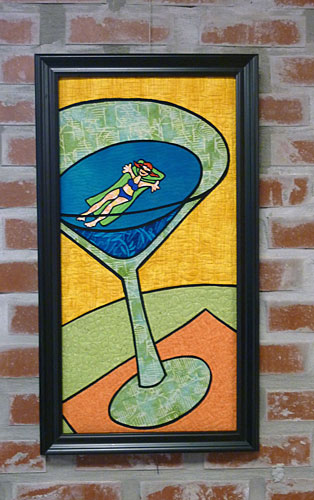 As I was making "Cheese Curls – It's Hard to Do Just One," I felt the background was a tad dull, so I studied photos of the Marlin offices and began to incorporate architectural elements of the space. The concrete columns, tiny windows, floating walls, and art furniture added a new dimension and allegorical associations to the work, reminding me that creating a sense of Place is a big part of telling a Story. But more on that in a later post.
Notice the unusual spread of goodies on the ice house table. Marlin was creative about providing a spread of unusual party food for the opening reception last night. Inspired by my quilts there were cheese curls, pretzels, mini toasts and jam!
Putting a show and event together is never the work of one person. Many thanks to Russ, Stephanie, Ellen, Don, Leah, Weber, Judith, and Michael for their encouragement, ideas, and contributions throughout the past weeks.
Kudos also to Ellen for keeping me on task for all tasks from invitations to price lists. Because Ellen kept me on schedule, I actually had some time to play around with some smaller framed pieces in the final week, including finishing up "Teeny Bikini Martini"  (12″ x 24″) that I created for a skinny brick wall.
Although I had my camera in my pocket the entire evening, unfortunately I didn't remember to take any photos. I wish I had a few photos of all the friends, family, and artists who were there last night. Thank you all who were there in body or spirit!
If you weren't able to make the reception, the show will be up for a good part of this summer, so stop by during regular business hours to see the gallery. If you're in the neighborhood, you may also view Watercolor USA Honor Society Small Works Invitational (June 10–August 5) in the Missouri State University Brick City Gallery – 215 W. Mill St., Springfield, MO 65806 on the first floor of the same building.