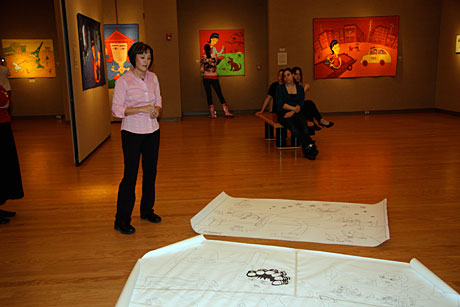 The reception at William Woods turned out pretty good. Lots of family and friends showed up, and WWU brought two classes of students into the gallery for the talk, so we had a lot of interesting questions, including, "Do these quilts glow in the dark?"
I didn't really plan a formal presentation — I had 3-4 hours on the drive to think about it, and I write about my work so often on my blog and for interviews that I've gotten pretty good at rambling in an on-topic sort of way.  So I prefer to remain flexible and adapt the talk to the interests of the crowd. Plus with all my years of waiting tables and delivering singing telegrams, I'm not too intimidated by crowds.
I did bring a couple of my original patterns to show the students and talk about process of moving from original inspiration to finished piece. Also talked to them quite a bit about setting up your own studio and how to stay networked in the art world after school.

Here's some important folks who showed up — mom, dad, step-mom, and the head of the art department at WWU my drawing and design teacher Paul Clervi. Notice anything interesting about all these photos? Why does everyone want to pose by the quilt about dog poop?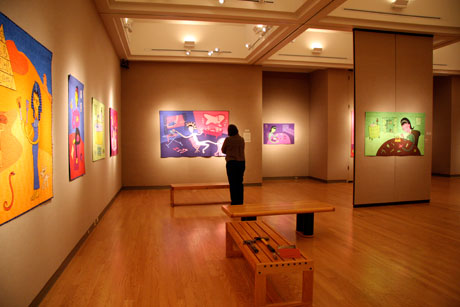 Next morning my dear old friend Janis blew into town, and we caught up on the last 20 years over Denny's pancakes, how appropriate. I gave her a private tour and talk talk talk (and here's her take on the show — be sure to pay attention which quilt we pose by on her blog) and then I put her to work taking down the art.  Then it was time to pack up my three fat burritos and go home.