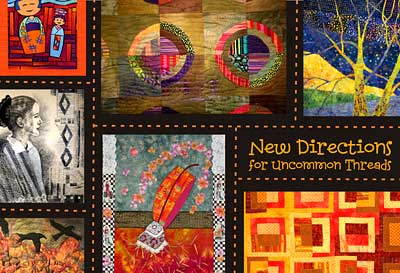 Sometimes when you don't work for a while and then you come back, things just fall in place really easily. We need to have a postcard design for our upcoming group museum show in April. I was going to just send the museum some single images and let them pick. But a single image wouldn't accurately portray the variety in the show. Then I had this idea, and it came together fast.
My idea is that you're not seeing any one full image — you have to go to the museum for that. The images run off the page in every direction because we're all going in individual directions. But the images are "stitched together" kind of like quilt blocks just as we are individuals sewn together into a small community of artists.
"New Directions" because we're all pushing and experimenting, moving in new directions. But we've all supported and helped each other do this, so the dotted lines are also like pathways that meet and cross. As I looked over the list of submissions for the show, I realized that most all the work has been done in the last year. At each monthly meeting, I'm astounded at the amount of artistic growth each of us has made in a relatively short time.
Emmie helped me with the title, and she says she's going to make this her desktop background. I think it would make a good book cover too! Well, we can dream, can't we?