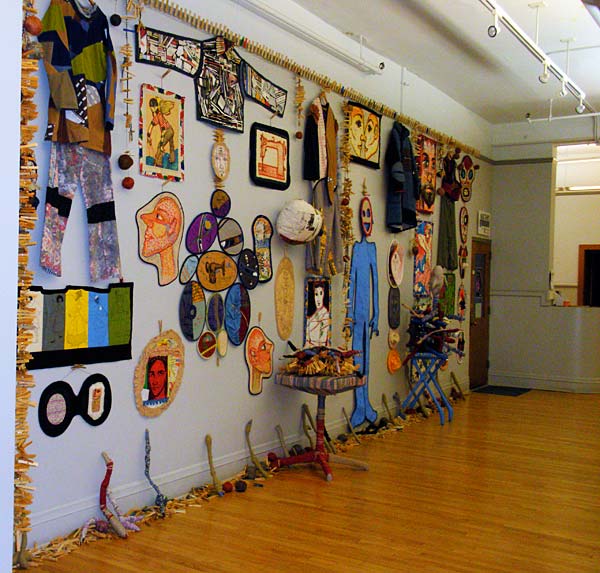 Clever name for a show, huh? Wish I'd thought of it.
I didn't — Mary O'Shaughnessy did. You may remember Mary, I mentioned her and Charlie (both artists) in a blog post a couple of years ago when we visited their gallery/studio/workspace/sculpture garden in Chicago.
Mary curated "Stitch Me a Story" for the Noyes Cultural Center and asked me to send her some photos of my quilts. She chose five to exhibit, but honestly, I was more excited about Danny Mansmith's contributions to the show than my own.
He's having waaaay too much fun with clothes pins, if you ask me. And a very prolific artist — I just felt that if I saw his work in person, the energy that he puts into his work would re-invigorate mine.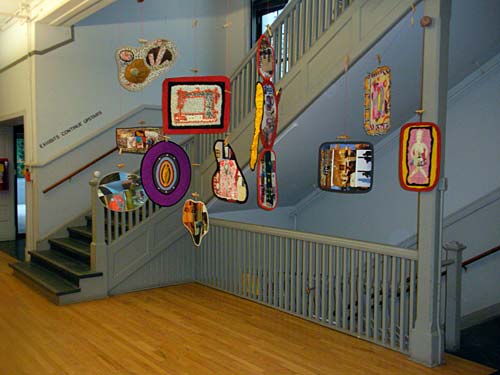 I first read about Danny when he was written up in Fiberarts Magazine a few years ago. Back then I tracked him down on the web to find a wealth of information and photos of his posted on Flickr. That may when I decided to sign up for a Flickr account — possible, since his is the first account that I marked as a contact so I could get Flickr updates on his new postings.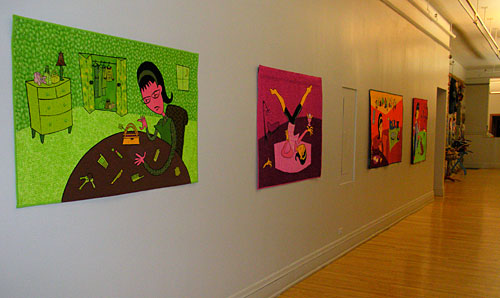 Here's my quilts I shipped up for the exhibit. It looks like Danny's installation is just next to mine. I had hoped to get up to Chicago in time to see the show and Danny's work in person, but since it's over a nine-hour drive and today is the last day of the show, doesn't look like we'll make it…
Thanks to Charlie van Gilder for the photos. Here's Charlie's website which shows his art and also Mary's Art Lamps. Charlie gave me a copy of these photos last weekend when he and Mary were driving through Missouri on their way home after Mary's big solo show at the Jane Sauer Gallery in Santa Fe called "Daughters of Memory."