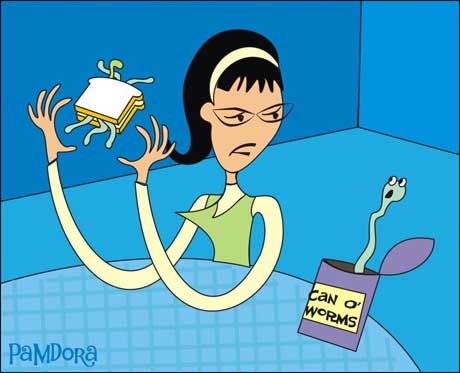 Had the idea for this drawing as I watched a bird eating his lunch the other day, and then when Illustration Friday posted that this week's theme was "canned," I thought Perfect!
Lately work has been a series of unpleasant little messes — mostly small stuff I admit, but it seems to add up, and then I find myself crabby when I don't want to be. I used to subscribe to the Spoon Full of Sugar/Sound of Music philosophy, but to deal with some of the gnarly things that have been happening lately, I've developed the Sandwich Technique. I try to do some drawing or art first thing in the morning and also end up the day with something else good. This sandwiches the nasty tasting stuff into the middle of the day, but each day starts and ends on the right note.
I also try to remember this bit of PamZen: Be not angry at the worm. It will only make you feel bad, and besides, the worm probably has it worse than you.