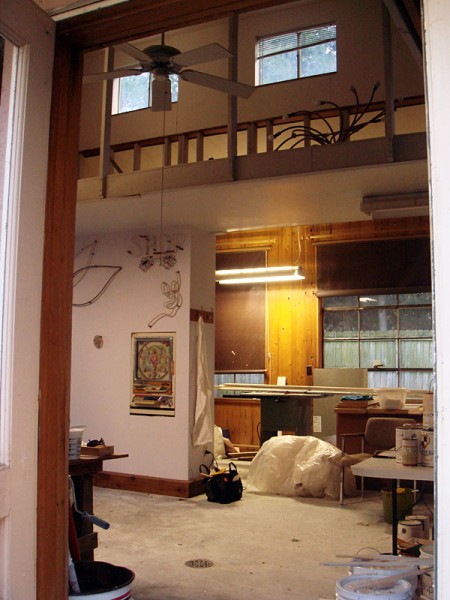 It always seems to be same each year, that last minute dash to get the outdoor things done before cold weather hits. November has been remarkably mild, so I've been outside every available sunshiney minute for the last few weeks, trying to get our old studio repaired and repainted.
This is our old studio before moving to the peanut butter factory, and the place where Russ built the Kinetic Man (in smaller pieces.) There's still a vintage pachinko machine on the wall, a neon face and letters that say "shop." There's some kind of weird light fixture stored upstairs, and the walls are covered with old barn wood that came from an ancient barn that my grandfather tore down long ago and stored for years before Russ planed and sanded the boards to make beautiful cyprus paneling.
The building was originally built by a woman who was married to the rabbi who ministered at the synagogue up the street. She was a ceramic artist and designed it for that, so it reminds me how good the place is for clay work. Maybe we should move that ceramic wheel we got last February back here for a while… hhmmm…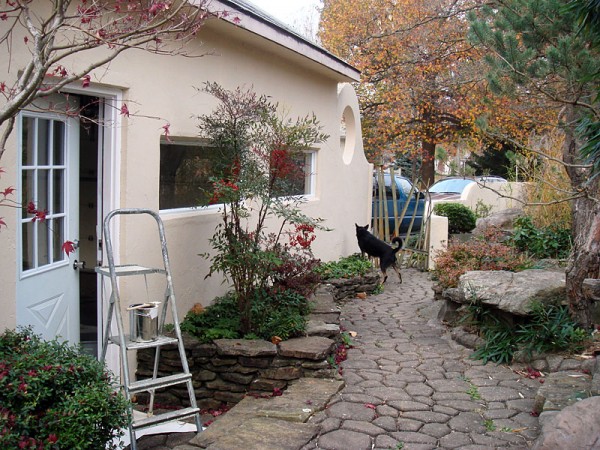 There's lots of secret nooks and crannies around the bamboo and water garden. Cobblestones that we hand-shaped out of concrete, a hand-forged bamboo garden gate, melodic wind chimes made from old pewter goblets. So there's lots of memories here and an inspiring place to work for a change.
But there's also a lot of repairs that have to be done to the wood exterior and the masonry waterproofing paint for the stucco walls is heavy, so I've been too tired at night to blog or do much art for a while.
I have stopped to take a few photos though. (click on the thumbnails below to see larger) And now the sun's out again – better get back outside and paint a few more strokes!