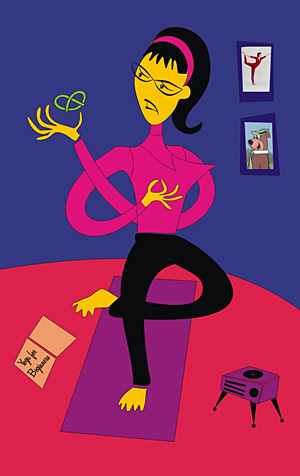 This morning I did yoga in front of the big window again, and the falling snow was mesmerizing. It was beautiful last night also, falling heavily as I left the studio. This is the first snow we've had this year.
Yesterday I was feeling like I got a whole lot of nothing done, because I'm so wanting to finish some work for the show — but instead, two remodeling jobs in progress, ordering new signs, three heaters malfunctioning…PLUS an hour talking to a reporter about the show, a newspaper photographer in my studio, and typing the list of all our quilts for the show. Here's the exciting thing:
72 WORKS OF ART! I had no idea we would have that much! Not that we're going to hang all that, but it gives us a really good base to select from. I'm so excited!
At the end of the day, I finally printed out a pattern for one of my yoga sketches. I hadn't thought it was very good, but seeing it life-size on the wall (30 x 49) got me so excited that I stayed late to do a color study. Here's a drawing, although I still have to work on a few things.
Today I'm going to work all day in the studio, first to start pulling fabric for the design. I imagine it will be a slugfest as usual.