I enjoy telling people that I work in an old peanut butter factory, next door to a paper cup factory, and down the street from a donut factory. So it should be no surprise that I was thrilled to receive an invitation to a party in an old ice house in Brick City.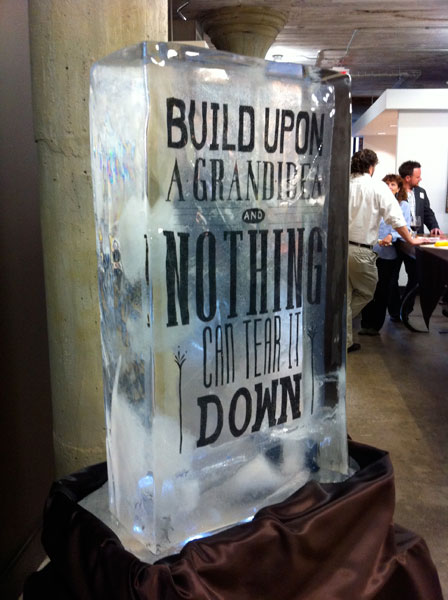 An ice house, I found out is a place were they used to cut up, store, and redistribute big blocks of ice that were brought down on the railroad from frozen lakes up north before there were such things as electricity, refrigerators, and deep-freezers. Hence the old-fashioned term "ice box" was a wooden cabinet where you put a block of ice below your food to keep it fresh.
For the open house of Marlin Company in their new digs, massive blocks of ice stood like sentinels at doorways and in the front lobby of the third floor of this massive old building. Blocks of ice with words in them.
Begging the question, I don't know how to make such good-looking ice cubes, but here are a few photos. Not only did they look good, the quotes inside had inspiring themes such as "Build upon a grand Idea, and nothing can tear it down," and "Creativity is the currency of Tomorrow."
Marlin Company is a creative agency, and some of the people who work there are also artists. And they support local artists in a big way. The front lobby is full of art.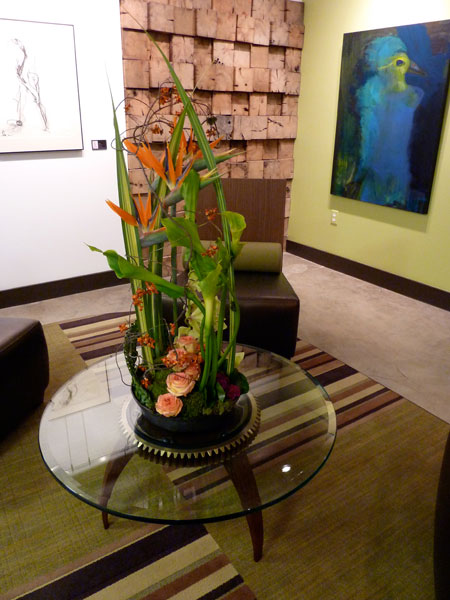 Here's some of my friend Stephanie Cramer's work in situ. I didn't really know it was hers until I had to walk across the room because I fell in love with that blue bird — and saw her name on the tag.
The big gear coffee table? Made from a gear out of the old elevator shaft of the ice house by Michael Stelzer, president of Marlin Company who creates hand-forged sculpture in an old barn in his spare time.
The flowers were done by the Flower Merchant over on Campbell. Some of the arrangements looked almost like alien beings, and the main centerpiece like a formation of moon and the planets swirling around our solar system. And since Marlin's specialty is working with national food companies, of course all the food was art!
Click on a thumbnail below to see larger images and captions: