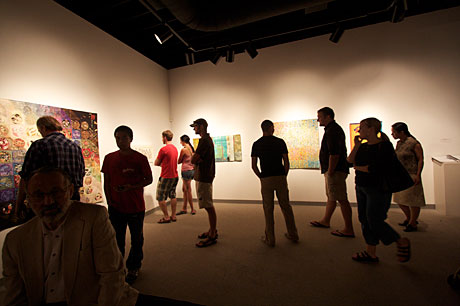 ThreadLines opening last week was a huge success. The gallery was packed all night long, and the show looks amazing thanks to MSU Art & Design Gallery director Robin Lowe and her staff and of course all the wonderful artists who made and shipped their work. Jason Pollen was there to judge the quilts in person, to award the prizes and to honor us with a exhibition of his recent work.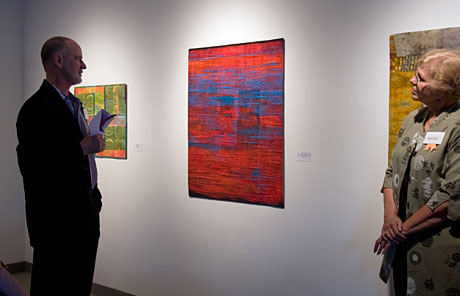 Here Jason Pollen is talking about the Best of Show by Deidre Adams, as Arleta Johnson, our prize chairman (very important person!) looks on. Told you you should have come to the opening, Deidre! Of course we didn't know until 5 p.m. that night that she was a winner. Here's a post about the rest of the award ceremony.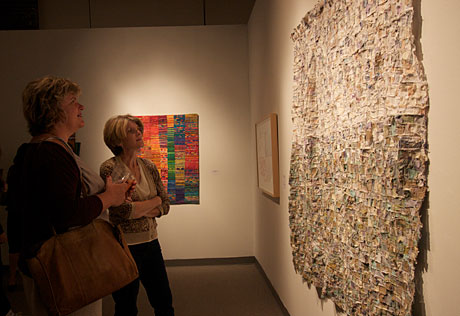 Several artists traveled to the opening, but the prize for farthest goes to Barbara Winoski from Canada. Here she is on the left, discussing her quilt with my friend Sue, who happens to be a seamstress but not quilter.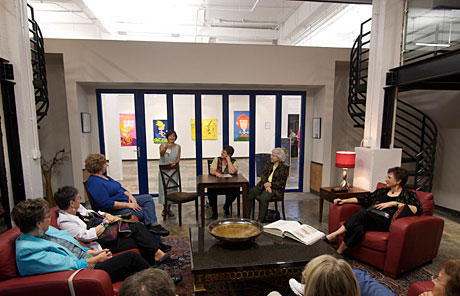 The Creamery Art Center usually doesn't get as much traffic on First Friday Art Walk since it's off the path. But here I'm giving an artist talk right after Emmie and Lettie gave theirs in the Creamery art library. You can just barely see my new quilts from the Wish You Were Hair series through the windows to the exhibition space. All together, I have 20 quilts on display and 11 framed drawings and mixed media collages.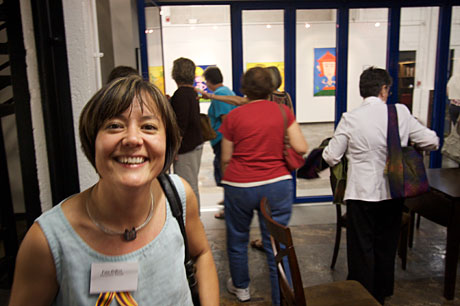 And this is one goofy grin I just couldn't wipe off my face at the end of the night after surviving a month I thought I wouldn't survive. Remind me never to schedule two show openings including visiting artists for a two-day workshop on the same weekend as Quilt National deadline ever again. Thanks for the photo Russ — it really sums it all up!