Early Saturday morning before dawn, we started the morning with poetry, bird calls, and frost on our feet.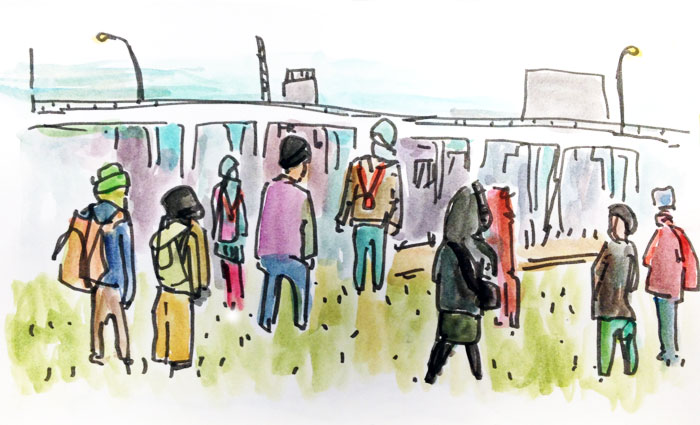 It was part of a sound installation sponsored by ideaXfactory designed and led by Gerard Nadeau of Drury University's architecture department called Morning Song Evening Song. Starting Friday evening with a workshop led by Greater Ozarks Audubon members, we each put a wooden Audubon bird call on an orange ideaXfactory lanyard around our neck and headed up to Park Central Square.
There at sunset, we spread through the First Friday Art Walk crowd and started a slow symphony of bird calls noises, first a few, then many. Then more, then faded away.
The next morning we assembled at the ideaXfactory at 6 am, shared bagels and coffee and headed to the West Meadows future greenways park site.

In the wet grass, Kate read bird poetry, then we started the morning crescendo of bird calls and watched the sunrise over the Grant Street bridge. The morning experience was much different, and I think, much more profound than the evening.
After it was all over, Ed Filmer showed up to video, so we got to do it all again. And I had time to make another drawing.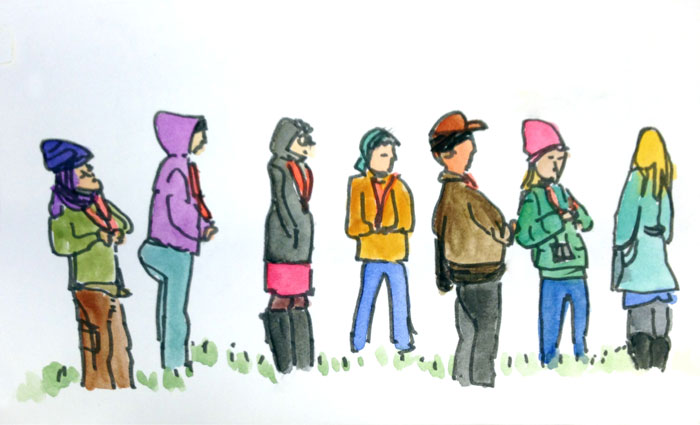 For more photos, please visit to ideaXfactory's Morning Song Evening Song post.