To write Creative Time and Space: Making Room for Making Art, Ricë Freeman-Zachery worked all last year getting a ton of information and tips out of twelve artists (including me). She also got great photos of artwork, drawings, quilts, sculptures, collages, sketchbooks, and studio space from everyone.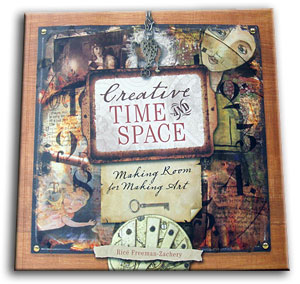 For my contribution to the book, I think I wrote about 20 pages of answers to her many questions and submitted upteen photos of drawings, quilts, sketchbooks and my studio. The finished book is densely layered with the photos, tips, challenges, and personal stories from all of the artists and organized into ten chapters with intriguing titles such as:
Exploring Time – What exactly does "Time" mean to you?
Stuck in Time – When you need a tow truck to get out of a rut
Mental Space – What goes on up there in your head?
Soul Space – Where you receive permission to play
Creative Habits – Music, candles and companionable cats
This fall Ricë is doing a series of podcasts with the twelve artists she wrote about in the book. In yesterday's podcast with me, Rice asked more challenging questions. Then towards the end of the podcast, in her usual articulate fashion, she was able to sum up my rambling answers into a concise and helpful set of tips (read her post about the interview on her blog Voodoo Cafe: Notes on Art, Writing, & the Creative Life.) Here are some topics we discussed, but to tell you the truth, the 45 minutes flew by!
Finding the best places to do creative work
Using the whole brain
Developing resource bank of ideas to avoid the "blank page" syndrome once you get back to studio
The other artists who contributed to the book:
Tracy Bautista, Theo Ellsworth, Lisa Lichtenfels, Chris Malone, Thomas Mann, Teesha Moore, Judy Coates Perez, Kelly Rae Roberts, Lori Marsh Sandstedt, Carter Seibels, Susan Sorrell, Roz Stendahl, and Judy Wise.