Looks like art, huh?
What a lot of people don't realize is there's "art" behind the art. The art of making things work, the art of presenting, the art of bringing things to completion.
These are just a couple of photos from last week's take-down of the Vital Threads show at Stephens College in the Davis Art Gallery. Annie Helmericks-Louder's  husband John Louder is removing Annie's butterfly from the wall. He's especially motivated because he's going to install his landscape paintings for the next upcoming show.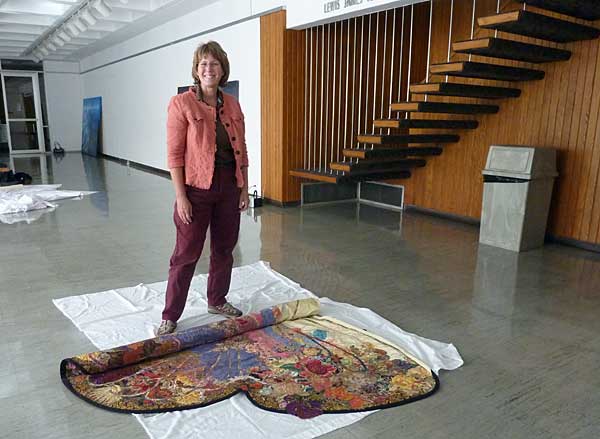 The wood piece is actually the hanging hardware for Annie's huge art quilt, but you'd never have seen this elegant structure during the exhibition. It's completely hidden behind Annie's big butterfly that is composed of all sorts of fabrics, threads, and other embellishments. You can get a better sense of the texture of Annie's work if you go to her website to see the nice close up photos she has on her welcome page.
One of the nice things about exhibiting with other artists, you get a chance to see how they pack, transport, and install their work. I've learned so much from watching other artists – both at shows I've been involved with and with my husband's sculpture and gallery work. Plus, it's just darn fun.
Annie's system is pretty amazing. The wooden frame has small hooks screwed into it, and the hooks all match hand-crocheted rings sewn onto the back of the quilt. At first I thought she had crocheted thread around rings, but she said no, they are completely made of the yarn or thread so they are more flexible than metal would be.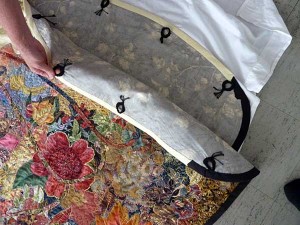 For more photos of the exhibition, go to the Vital Threads photo gallery on my website. I've finally gotten my website converted to WordPress, something I've been trying to do for what seems like a year. I don't have all my quilts there yet, but some of the more recent work.
Now after going to see Annie's website, it makes me think mine needs a lot more work. Thanks for the inspiration Annie!