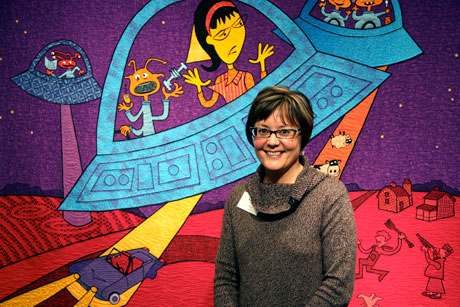 Can't remember really. Something about how I used to draw and do digital art, but missed the joy and funkiness of the handcrafted object, and so began to combine my drawing with making quilts. Also, how I was inspired by the mis-matched patterns of old-time patchwork quilts, and tried to preserve that kind of spontaneity and humor in my own work.
And since I was standing in front of this quilt, (thanks for this photo Robert Duncan:) I used it to explain how I enjoy putting memories of objects and people I love into my work. For instance, on long road trips I often eat those little white powdered donuts you buy at the gas station. So when I made this quilt, I was thinking about how the aliens had been on a really long road trip to get to Earth, and gave them some white donuts and Tang for the trip.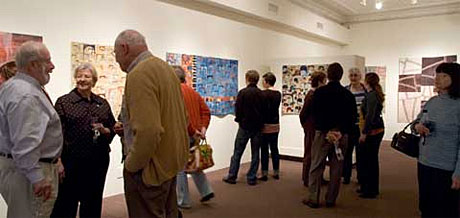 Photo of the opening by Lisa Call who gave a good talk (read her funny version of her road trip with sharks) about her own work Fencing In or Keeping Out and since she was curator for the show, about the other artists — Deidre Adams, Joanie San Chirico, and Jeanne Williamson. The Lux is a great art center with 20 year history, and the show looked great. Here's a photo gallery of the whole show on Flickr.