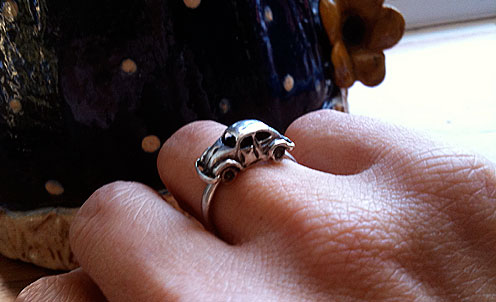 Okay, I know I missed Friday. But I got absorbed in a Slam Poetry Workshop at the Missouri Literary Festival on Friday, so I didn't post this little car-ring I've been wanting to show you.
I got it an a little shop in Mexico near our hotel when we were there last March. At first the guy who owns the shop wasn't very friendly, but I was fascinated by his collection of retro, vintage and antique silver jewelry. (I'm not sure if those terms overlap, so just threw them all in there to be sure.)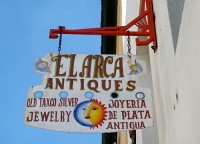 Anyway, he had lots of really old-looking stuff, some stuff that looked like the 40's, some that looked like the 60's… Since most of the charms, bracelets and rings were small, everything was in cases and we had to ask him to get each one out. As our enthusiasm for the pieces showed, he started to tell us about the dates and histories of the different styles and how it related to Mexican history.
When I found this little Volkswagon bug ring, he said, "Oh yeah, there were lots of those made because we were all driving them in those days." I'd never seen a ring like this — the little car slides around the ring which I think is so clever!