Thank you David Byrne for reminding me of this. I don't know if it's too many committee meetings or the bah-humbugs, but lately I'd been feeling sort of sour on art. Then Friday we watched the 25th anniversary re-release of Stop Making Sense — a theatrical performance and concert movie conceived by Byrne and produced by Jonathan Demme (Silence of the Lambs, Philadelphia).
I've been watching snipets and songs from the dvd every day since then, especially when I work out in the morning and feel so energized about making art again. In his self-interview in the extras section, Byrne asks himself why he named the movie Stop Making Sense to which he answered, "because making music and performing don't make sense," and later about the meaning of the big suit — because I wanted my head to look small and my body big, because the body feels it before the head.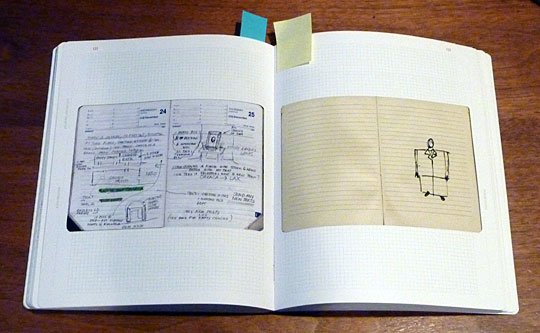 A drawing and discussion of the Big Suit are featured in a great journaling book Drawing From Life: The Journal As Art. There are photos of Byrne's notebook as he traveled in Japan and was inspired by the flat and larger-than-life Kabuki costumes on the Japanese stage. Besides a simple sketch of the big suit, there are bits of conversation and brief impressions recorded that later would become part of lyrics for songs.
I think what I like about the movie is what Roger Ebert said is "the overwhelming impression throughout Stop Making Sense is of enormous energy, of life being lived at a joyous high…(Byrne) jogs in place with his sidemen; he runs around the stage; he seems so happy to be alive and making music…"
That, and the performace art type visuals on the theatrical stage behind, the big screen images of books, body parts, cryptic words, the fluorescent light bulb nod to artist Dan Flavin… did you know that David Byrne, Chris Frantz and Tina Weymouth – founders of the Talking Heads – were alumni of the Rhode Island School of Design?
The idea that Art doesn't Make Sense works for me. I think it can have meaning, but does it really make sense? Seems when I try to make it make sense — make it too logical and explainable — I kill it. The spirit of the thing anyway. I have to leave some part or elements in a project mysterious and nonsensical, then it seems to have a spirit of it's own, and I seem to enjoy it more.
And now for no reason, a digital collage from the sign at Gailey's Breakfast Cafe and the set from the Daily Show….and have a beautiful day!