I'm not talking about appearances, I'm talking about structure. If you've been reading my blog, you know the look of PaMdora's box hasn't changed much over the last couple of years. But I've been writing here about four years total, and there have been a variety of looks.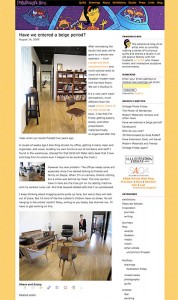 Yesterday I played around with a few different WordPress themes, to find one that I could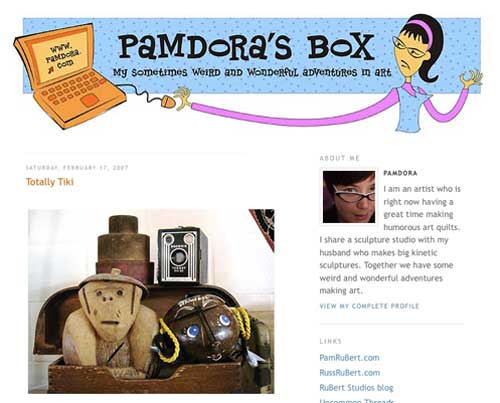 work within. This one is pretty vanilla, but in a pleasant sort of way, so I think I'll work with it for a little while while I'm in the structural re-building mode.
Categories and Tags
My old theme didn't utilize Categories or Tags, both of which help people (including me, and I'm always having to search my blog to find something I've forgotten) to find their way around to find topics of interest in the past articles. So now I'm going back through 500+ entries to properly tag and categorize things.
New Thumbnails in Preview
Also you'll notice the little thumbnail that accompany some of the teasers when you click on a category or tag topic.  These are being generated automatically by a java script called TimThumb that's part of this theme. I say "automatically" except that I have to go back into each article to fill in a custom field that will tell WordPress where to look for the artwork from which to generate the thumbnail. So another 500+ edits.
Yet Another Related Post
The good news, is after all that work, there will be some added benefits. If you look at the bottom of each individual article, there's a list of related posts. These are being generated by YARPP for WordPress. Yet Another Related Posts Plugin by mitcho uses Tags and Categories to suggest these – another reason I'm working on adding them to my old posts.
Nested Comments
Another benefit I'm really looking forward to is the ability to have nested comments. I used to go back and manually edit my responses so they would appear right after the comment I was responding to. Now there is a small "reply" button by each comment. So you (and I) can have the choice to scroll down to the bottom and leave a general comment, or use one of the new reply buttons to respond to something directly. Try it and let's see how this works  – I'm really excited about this new feature!
Lightbox effects
Here's a little history of images to show you the lightbox effect.  This is done using the WP-slimbox2 plugin for WordPress by by Greg Yingling. Click on any of the images on this page, and you should get the effect. I tried out several different lightbox plugins before I found this one, so there are a lot of options for plugins in this area.



So please bear with me as I work to get all this organizational stuff done. Then I hope to get back to the fun stuff of getting a good-looking header designed for the top of the blog.