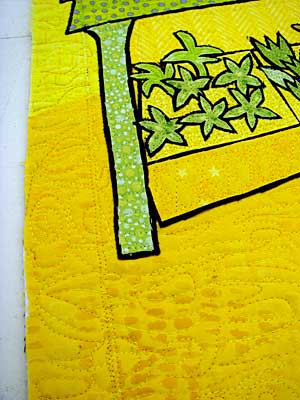 I'll tell you a little secret about my quilt that's going to be in the upcoming Quilt National — I call it a Franken-quilt (as in Frankenstein).
I was trimming it to prepare for the binding (at about four in the morning — a ghastly time to do such a critical task) and I trimmed too much. When I pinned the binding on, I found it would hit the edge of the flower shop at a bad place – yikes!
So I dug the edge out the trash, zig-zagged it back on, and re-trimmed slightly wider. Enough that I could move the binding over a bit and the zig-zagging doesn't show. So no one knows about the mistake except me, and now you.
Quilt National groups A, B, and C
Dale Anne asked about the coding of the artists listed on the Quilt National 2009 website. The whole show will be on exhibit at the Dairy Barn from May 23 – September 7, 2009. After that, it will travel to The Foundry Art Centre in St. Charles, Missouri — the only other venue that will exhibit the entire show.
After that, the quilts are sorted into three groups called A, B and C.  This way smaller segments of the show can travel to museums and other venues that can't accomodate the whole show, which is quite large when taken together.
The entire collection will be on exhibit at The Foundry Art Centre from September 25 – October 29, 2009, and I've been asked to do an artist's luncheon talk and then walk the audience through the exhibition on Thursday, October 8.
So if you can't make to the Dairy Barn in Ohio, come visit the show at the Foundry in Missouri! After that, I think the schedule for the smaller group exhibits is still being planned.