Although I wasn't able to attend, the International Quilt Festival is happening this week in Houston. I did send a quilt – Prince Charming's Shoe Sale. Patricia Kenndy-Zafred kindly send me a photo from Houston.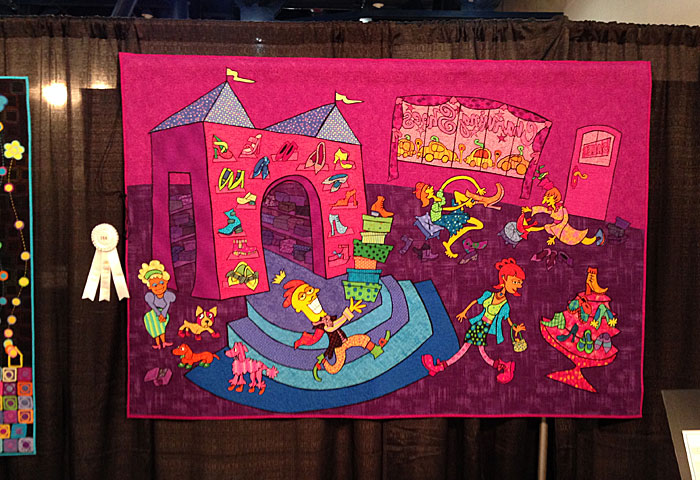 The white ribbon is for Third Place in the Whimsical Quilts category. Patty's quilt is across from mine in the Digital category.  She did better than me — she won a First Place in Digital Imagery with a silk-screened quilt! You can see her quilt "Shared Destiny"  her homepage and on the 2014 IQA  awards page at Quilts.org.
The award-winning quilts from IQA/Houston (which ends tomorrow) will be traveling to IQA /Chicago in March, IQA /Minneapolis next May, and to Quilt! Knit! Stitch! by IQA /Portland next August.
Looking at Patty's website, I just realized we will also be in a couple of upcoming shows together – Quilt National 2015 in Athens, Ohio and Expressions in Equality at Visions Museum in San Diego in 2015. So it's kind of cool that although, I can't go all these places, my quilts can. And I can develop these long distance friendships!
Yesterday on Halloween I was looking at lots of creative pumpkin carvings. It reminded me that last spring when I made this quilt, I was thinking a lot about pumpkins. Although Cinderella may have ridden to the ball in a pumpkin carriage driven by mice, I thought a modern Cinderella could drive herself to a shoe sale. So I made a pumpkin patchwork SUV, VW bug, van and sedan for her and her step-sisters:)