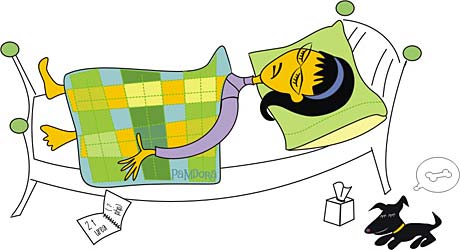 I feel right at home with this week's Illustration Friday theme: Blanket, because I spent all weekend under one, still trying to sleep off this nasty cold-flu.
Here's an interesting link called "How to be an Early Riser" if you don't want to be like me. My advice is just the opposite for "how to be a full-time sleepyhead" — read lots of technical books like The Visual Quickstart Guide to WordPress and stuff with a lot of chemical formulas, like Color by Design: Paint and Print with Dye. Actually they are both good books, but yawn…I just can't keep my eyes open.
One more word on blankets. I had to change hair stylists last fall because the guy keep asking me if I was still making blankets. I make art quilts, not blankets, and after a few months it stopped being funny. Actually it never was funny. Let's just say, don't call them blankets, that is if you want to cut my hair!