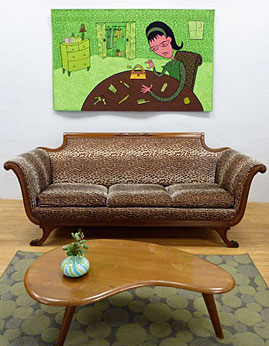 I've never really thought about that when I'm making art. When I have a show coming up in a public space, I usually spend a lot of time photographing, measuring, and once even made a gallery dollhouse. I've also made pieces and even series of works for specific spaces.
But the odd thing is, I've never hung one of my quilts in a living space. So last fall when several of you commented on my blog that I needed to hang art in this space, I'd been meaning to get to it.
Big surprise here! This is what I consider to be one of my mid-size pieces — not really big, and not really small. But here in the studio lobby, it looks kind of over-powering. The sofa's not small. It's an antique red-velvet sofa I recovered with faux fur, and it's a nice size for napping, or fainting, or whatever you want to call a mid-afternoon or middle of a late night crash.
Hmm, guess I'll have to think about this some more…. maybe after a short faint.