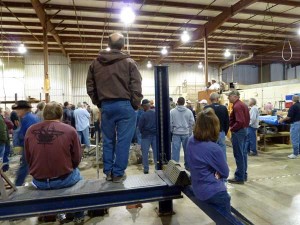 Auctions are a great place to get art supplies, and I especially like industrial auctions. It's usually dirty, noisy, and sometimes too many smokers show up, but it's a chance to poke around in factories and other places you wouldn't ordinarily be allowed. It's also a  social event, you often see some of the same characters. Plus there's usually donuts, hot dogs, and hot chocolate at the concession trailer.
This week's auction I nicknamed the Mod Table auction. It was at a stretch limousine factory — which means metal, metal-working tools, sewing machines, bundles of leather, big bolts of vinyl and foam, velcro, spray adhesive, seat belts….. The company is moving all their operations to Ohio (without offering any of their local employees jobs which seems pretty crummy, I might add) and liquidating the entire factory.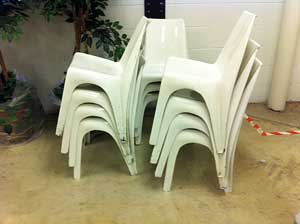 Sometimes there's a bonus at industrial auctions. If there happens to be some retro furniture, it usually sells a whole lot cheaper than it would at an antique auction, because industrial bidders aren't interested in that sort of thing.
The contents of the lunch room in the factory were on the list to sell. I thought these chairs were sort of cool-looking — maybe from the 70's? They are really strong, waterproof, and stack. I thought if they went cheap enough, they might be good for a party at the studio, or maybe I could donate them to the Creamery Arts Center because I thought they'd be good for kids' art workshops.
The tables seemed sort of ugly and odd though. But the wooden tops would be great work surfaces or could be recycled.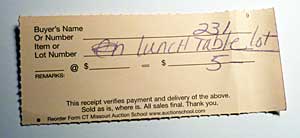 Bidding started. The auctioneer offered them at $50 per table. No bites. $25 per table. Not a nibble. $10 per table. Nothing.
There was a lot of more important stuff to auction, so he decided to offer the whole set of 5 tables and 40 chairs for one price and move on.
But no bidders at $100, $50, or $25. So the whole Lunch Table Set sold for $5.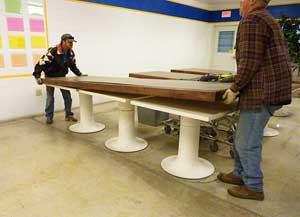 When it was time move everything to an already stuffed trailer and truck, there was a little surprise.
The tables we had bought were not the tables that we thought we had bought.
We had actually bought 12 tables, 40 chairs and a whole lot of wood for $5.
And guess what, the tables stack too!