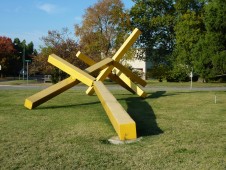 Dear knitters, crocheters, and fiber artists:
We're planning on yarn bombing a big yellow sculpture at the Springfield Art Museum on Oct. 19-20. It's sort of  like making a really big patchwork sweater for something 30-feet tall, 65-feet wide, and with seven arms. How do you do that?
And the answer  is — with help from my friends! I don't do these projects alone. We have a group that meets at the ideaXfactory, usually on Sundays, or more often for special big projects. You can see some of these at http://yarn.bombers.ideaxfactory.com. This sculpture sweater project will be the biggest one so far, so we're putting the call out to everyone to join in helping with this huge project!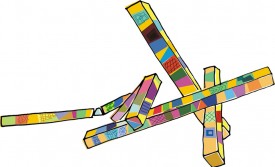 I've already had several questions about what to send, and although I spent a lot of time writing this invitation, I just realized that photos would be much better than words. So I'll show you how we did another project.
How we made the column at the ideaXfactory
The brick column at the ideaXfactory holds up the corner of the building and is sort of boring.  It's the same width on each side, so it's a lot like the sculpture that's made of long beams with uniform sides. We put a call out for everyone to make something twenty inches wide, any height.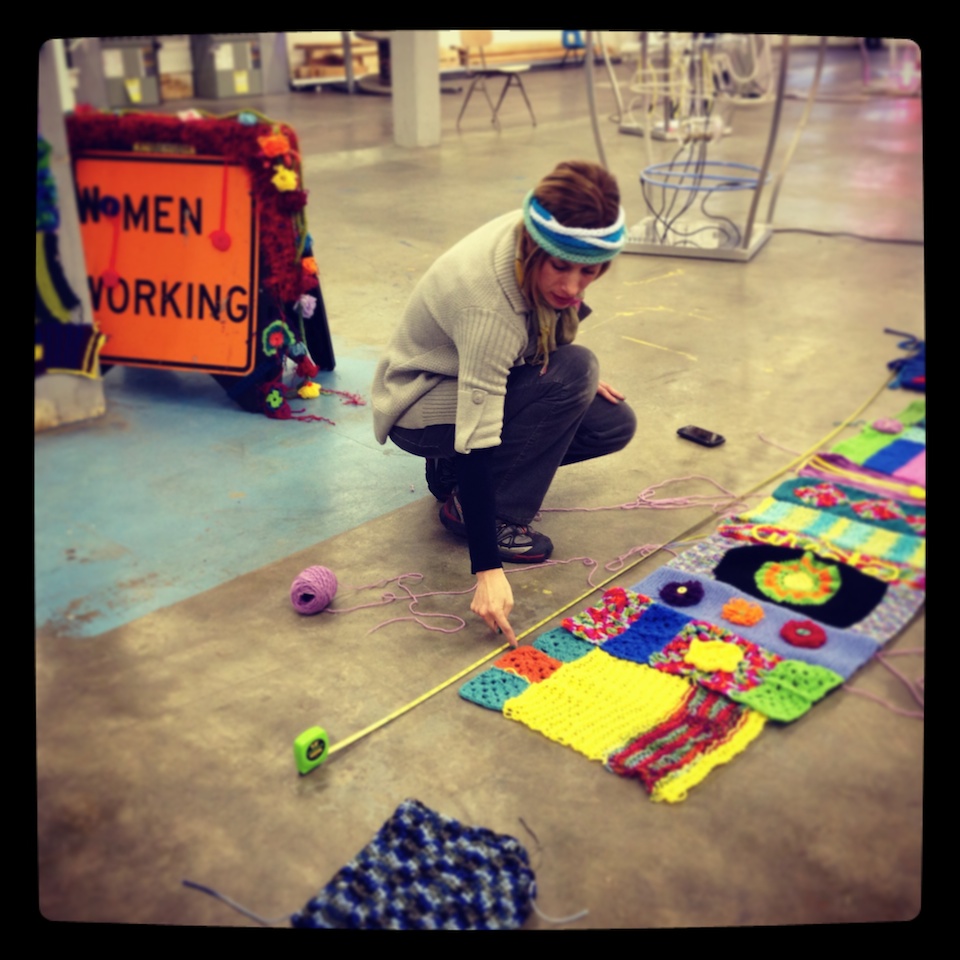 This is Adie assembling pieces of knitting and crochet by everyone in the group. Don't mind the (WO)MEN WORKING sign, that's a joke sign we made. We do have a couple of terrific guys – in our group. Some of the pieces were exactly the width of the column, some were pieced together. We added in round and unusual shapes, granny squares, other motifs. Wendy added lots of crocheted pockets for flowers, notes and one time, a geo-cache.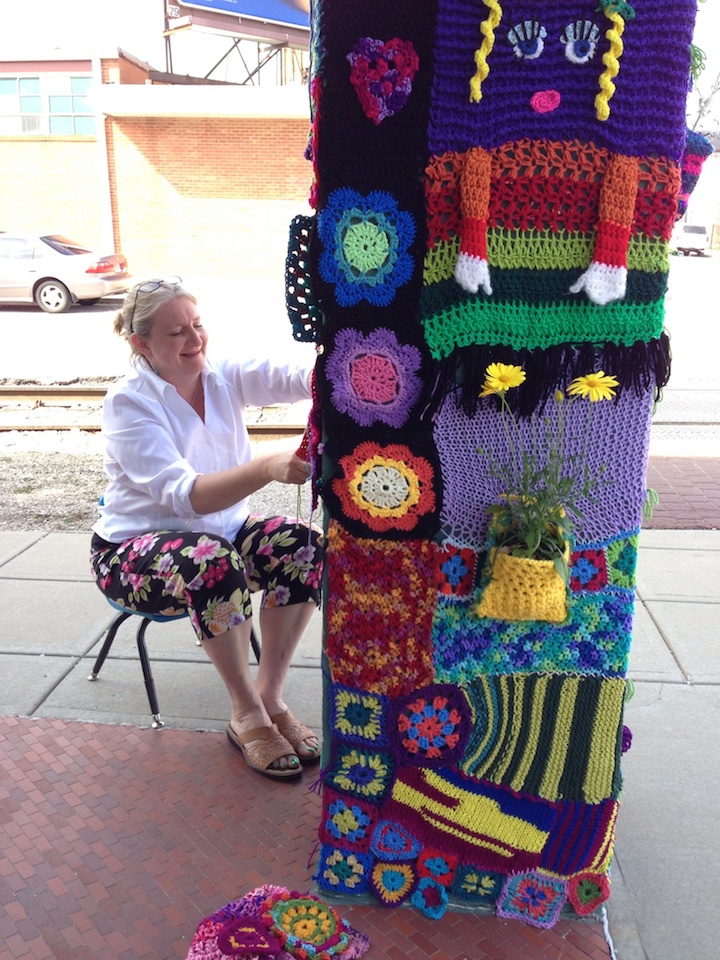 Some of the pieces, like the doll with swirly hair, were recycled from another project. Some of the words were knitted in contracting colors…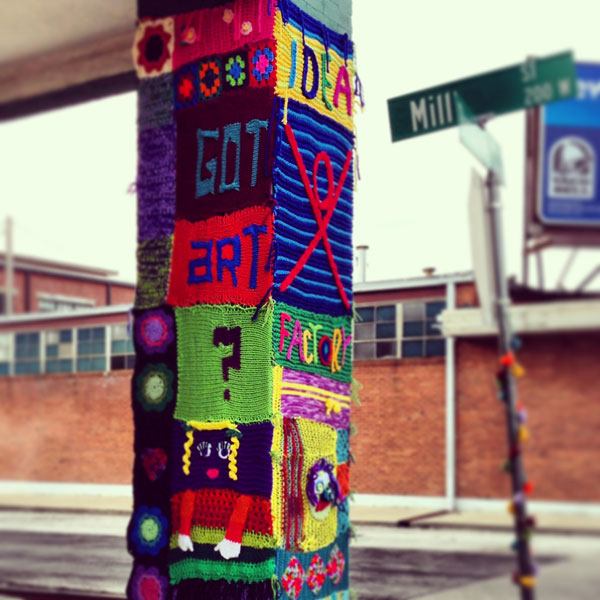 and some crocheted as chains and then stitched onto a background.
The cool thing about these projects is that by sewing yarn pieces together, we can wrap and completely transform the look of buildings, sculptures, trees, bikes, or almost anything without using any adhesives or things that might harm the object. Then later we take it down, and everything goes back to before – except for the photos!
Here's what we need to yarn bomb the Sun Target sculpture (aka the French Fries) at the Springfield Art Museum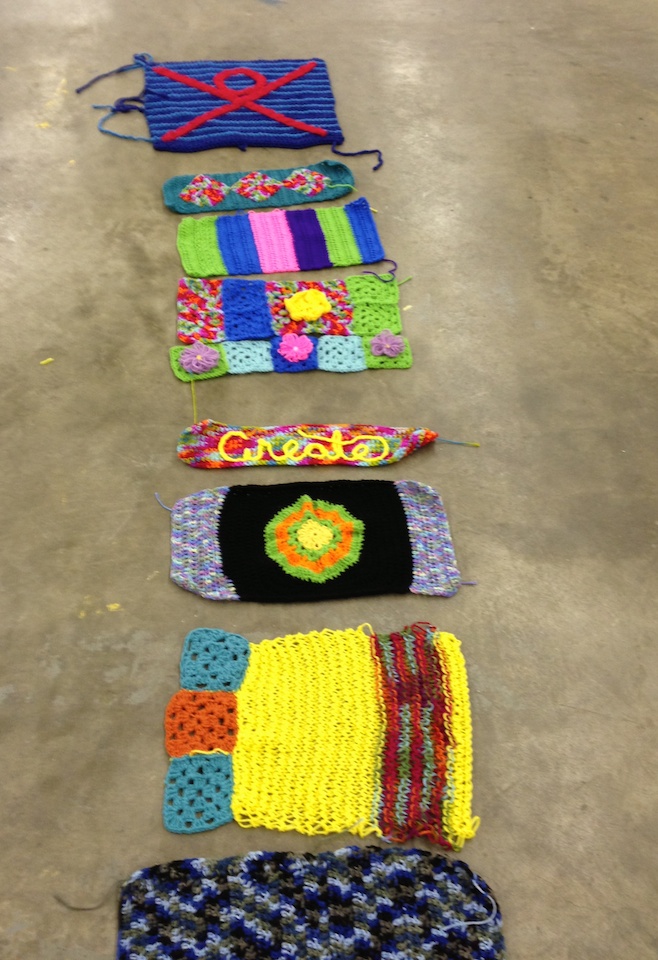 You can make sections 16 inches wide, any height. Even a little an inch or two smaller is okay because these things stretch. It helps for a more snug fitting sweater. If it's bigger, we can always wrap it over to the next side. So don't get too uptight about measuring if you don't want to.
Also you can just send single granny squares or smaller pieces, and we'll use them to fill in odd places. You can also pre-sew your motifs together if you have a certain design in mind.
We'll need your contributions before Oct. 19 and the sooner the better, because we'll be sewing them together ahead of the installation weekend of Oct. 19-20. Please mail your contributions to RuBert Studios, 1841 E. Bergman St., Springfield, MO 65802 or drop off or mail to Springfield Art Museum, 1111 E. Brookside Dr., Springfield, MO 65806.
You can also join us for meetups either at the ideaXfactory or outside the Springfield Art Museum, depending on the weather.
I'll be posting times and days for meetup on my facebook page and Twitter.
You can also email me if you have more questions.
You can also follow this project on the Instagram at #yarnbombsam
I'll be posting photos of contributions as they come in, and a lot more photos during the installation!
Additonal links:
Art Museum music video (with music by Plaid Dragon)
Yarnbombing the Tumbler on the Square (another fun stop-motion video by my husband Russ.)